Nogales is set to host several Little League district playoffs in July as teams in southeastern Arizona vie for a spot in the state tournament.
The Nogales National Little League is part of Arizona's District 8, which also includes leagues from Cochise County. Information listed here was taken from brackets posted to the district website at www.azdistrict08llsb.com, which is where to look for updates and schedule changes.
The NNLL field on Madison Street will be the playoff site for the District 8 division for kids ages 9 to 11. Nogales and Sierra Vista are the only teams scheduled to compete, and they'll play a best-of-three series set for July 6-8, with games to start at 6 p.m.
The Junior Division District 8 playoffs also feature just two teams: all-star squads from Nogales and Sierra Vista. They are set to square off in a best-of-three tournament at War Memorial Stadium in Nogales on July 13-15. Game times are at 6 p.m. Junior Division is for youth ages 12-14.
Other local teams are hitting the road for their district tournaments.
The NNLL is fielding an all-star team in the District 8 Minors Division (ages 8-10) tournament, which began June 30 in Sierra Vista. Douglas, San Pedro, Willcox and Sierra Vista are competing as well.
Nogales opened the Minors Division playoffs with a 17-1 win over Douglas.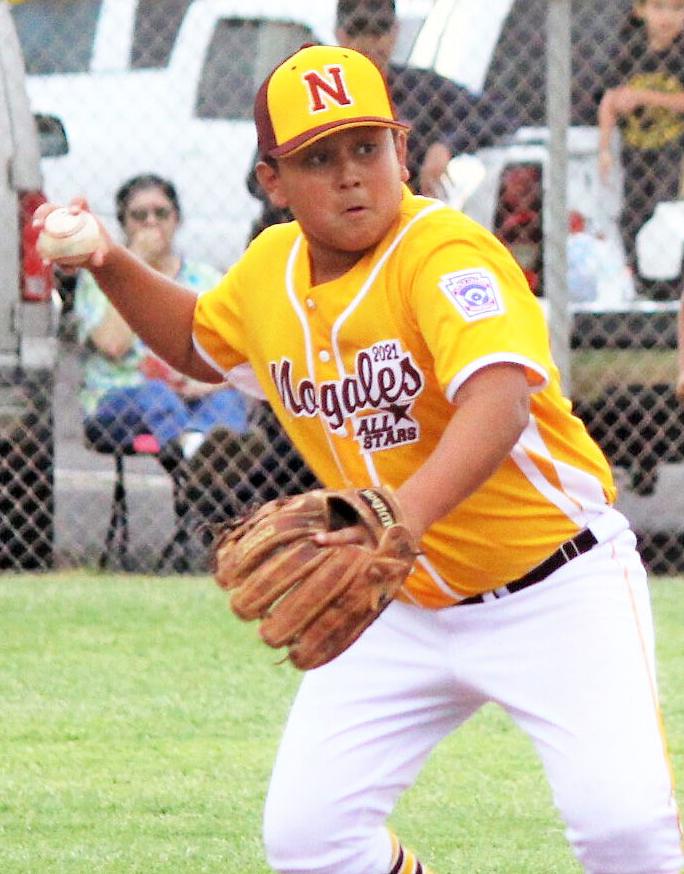 The District 8 tournament for the Majors Division for ages 10 to 12 is being held in Douglas. It also started June 30, with Nogales eking out a 4-3, extra-inning win over the host team in the opening round.
An all-star squad from the Santa Cruz Little League, which includes kids from Patagonia, Sonoita and Elgin, is also competing in that tournament, as are teams from San Pedro, Willcox and Sierra Vista.
Playoffs for the District 8 crown in the Seniors Division (ages 13-16) are set to begin July 6 in Sierra Vista. Nogales and Sierra Vista are the two competitors.
Arizona Little League District 8 will also hold several softball tournaments in Cochise County, though no teams from Santa Cruz County are scheduled to compete.
In addition to the District 8 playoffs, Nogales will be the host city for Arizona's state Little League tournaments in two divisions.
The state Intermediate Division championships (ages 11-13) are set to begin July 16 at Fleischer Park, with six teams expected to compete. One of the teams will be the all-star squad from Nogales, which qualified automatically when no other District 8 leagues fielded a team.
Ten teams are anticipated to play in the state Juniors Division playoffs, starting July 23 at War Memorial Stadium.
Normally, teams that win the state crown advance to the Little League World Series regional playoffs in their division. However, there will only be a Little League World Series this year in the Majors (10-12) Division, so postseason play for all other divisions will end at the state level.
That means that Nogales will once again be unable to host the West Regional tournament in the Intermediate Division, which had brought teams from western states including Hawaii, Alaska, California, Washington and Oregon to the city from 2014 through 2019. The pandemic cancelled the regional in 2020 as well.