The Patagonia Lobos shocked the two-time defending state champions on their home court on Saturday, defeating The Gregory School Hawks 55-53 in a 1A Conference state tournament play-in game in Tucson.
Lobos senior Russell Sherman scored on a driving layup with approximately three seconds remaining for the winning points, and the Hawks missed a desperation heave at the buzzer, said PUHS coach Nate Porter.
"We ran some really good offense and made that shot," Porter said of Sherman's game-winner.
"We were ecstatic," he said of the team's feeling afterward. "Our goal all year was to get past the first round of state because we've made it to the first round the last three years and haven't advanced to the second round."
Patagonia came out strong and led 17-6 after the first quarter. But the Hawks outscored them 32-21 over the next two periods and the teams entered the fourth quarter tied at 38.
The Gregory School took a three-point lead late in the period, but Lobos point guard Santiny Aguilar was fouled on a three-point attempt with approximately a minute remaining, then sank all three of his free throws to tie the score, Porter said.
Patagonia got the ball back and set up their final winning possession.
"These boys just have incredible heart and dug deep all the time," the coach said. "Even after we fell behind, they fought back and overcame the adversity to pull out the win."
The Gregory School finished the regular season with a 14-4 record and No. 4 ranking in the state. Patagonia was 9-7 and ranked No. 13, but the Lobos upset the Hawks 50-43 on Feb. 7 in the 1A South Region tournament in Tucson. That win gave the Lobos a new mindset heading into Saturday's state playoff game, Porter said.
"Their star player didn't play in that (Feb. 7) game, so it was kind of a completely different game," Porter said in reference to the Hawks' Josiah Prior, who returned Saturday night and scored 19 points to lead his team. "But it did certainly build their confidence that they were just a team – not a name – and that we could play with them."
Until this year, Porter said, Patagonia had never beaten The Gregory School in boys basketball, adding yet another layer of specialness to Saturday's win.
"Not only was it in state, but we were beating a team that had beat us a lot of times in the past on their home court, so it was a really good feeling," he said.
Aguilar led the Lobos with 28 points.
"Santiny definitely had the best game of his career," Porter said, adding that Lalo Aguilar (10 points, five rebounds) "also played a really good game, a really solid defensive game."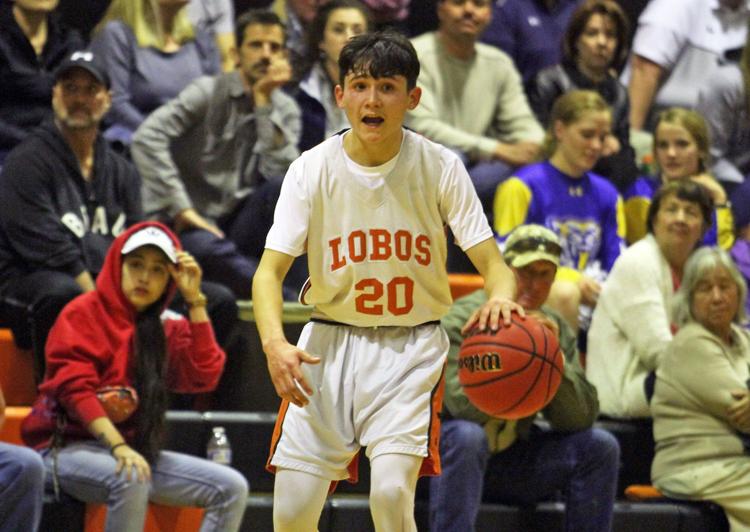 "The big difference in this game from some of our other games is that our bench really came up well," he said. "We were in some foul trouble and our bench – Russell Sherman being among those players – was just excellent in this game."
Now one of eight teams remaining in the 1A Conference tournament, the Lobos are set to take on No. 1-ranked Fort Thomas (17-2) in the quarterfinals on Thursday in Prescott. The teams met in the final regular-season game of the year on Feb. 11 at PUHS, with Fort Thomas winning 75-57.
"They'll be very tough," Porter said. "But we just upset the No. 4 seed, so we'll see if we can do it again and pull another upset."