The Patagonia Union High School boys basketball team couldn't maintain a halftime lead on Tuesday and they lost to the St. David Tigers 62-48 at home.
"We just ran out of gas," PUHS coach Nate Porter said. "Our lack of depth has hurt us our last three games – we've run out of gas in the second half."
The Lobos fell behind 11-6 to start the game, but came back to tie the score on a layup by Isaiah Ruiz and a three-pointer by Lalo Aguilar. Another three-pointer from Aguilar put PUHS up 14-11 with 1:20 left in the first quarter, and Damian Castro scored on a layup – his fifth and sixth points of the period – to give Patagonia a 16-11 advantage after eight minutes of play.
The Lobos extended the lead to 18-11 on a basket by Aguilar to start the second quarter, but St. David answered with a 6-0 run to cut the advantage to a point with 3:48 left in the half.
However, a layup by Dylan Jacob, a jump shot by Santiny Aguilar, two free throws by Julian Vasquez and a scoring drive by Lalo Aguilar with 12 seconds left kept Patagonia in front and gave them a 26-23 advantage at the break.
The lead exchanged hands several times during the third quarter until St. David went ahead 35-34 with just under four minutes left in the quarter. The Tigers then went on a 7-2 run to close out the period and go up by eight points.
Lalo Aguilar (team-high 22 points) hit two more three-pointers in the fourth quarter and Russell Sherman came off the bench to score four points, but the Tigers, led by Kason Jacquez's 12 points in the quarter (31 in the game), outscored the hosts 20-12 to seal the win.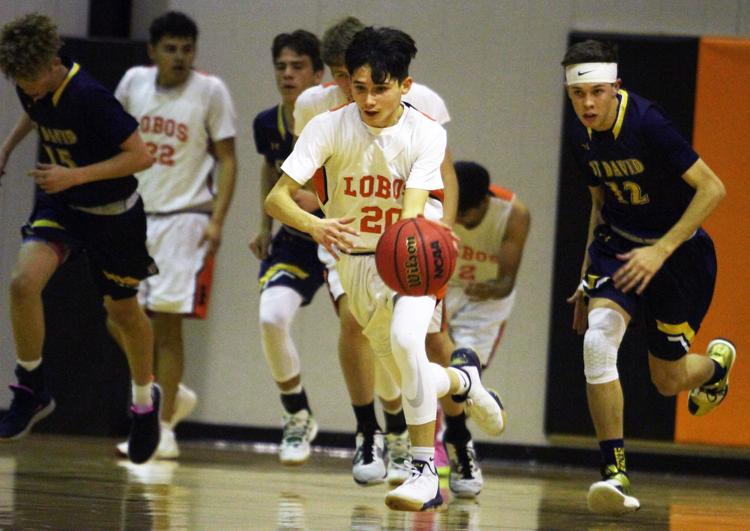 The loss was the fifth for the Lobos in their last six games and dropped them to 8-6 overall after a 7-1 start had them ranked in the Top 10 in the state 1A Conference. As of Wednesday at noon, they were ranked No. 18.
"We started very well and the later season has been a tougher schedule," Porter said. "And with our lack of depth, we haven't been able to finish games."
The coach cited juniors Lalo Aguilar (15.9 points, 3.1 steals per game) and Vasquez (9.6 points, 11 rebounds per game) as two standouts this season.
PUHS is set to play at Immaculate Heart on Thursday and at the 1A South Regional Tournament on Feb. 7. They'll have one more home game after that, at 7 p.m. on Feb. 11 against Fort Thomas.
"We're running out of days, but we need to learn how to finish games," Porter said. "That's by being a little smarter with execution down the stretch."