The Nogales High School girls basketball team held on for a one-point win over the Sunnyside Blue Devils on Thursday, earning a crucial victory in their quest to qualify for the postseason.
"We needed to win this game in order for us to make it to playoffs because we were 21 and going to playoffs, you need to be top 24. So winning this game will help us out," senior forward Dominique Acosta said, in reference to the Apaches' ranking in the state 5A Conference.
Following the win over Sunnyside, which raised the team's record to 8-9 overall and 5-4 in the 5A Southern Region, Nogales' state ranking rose a position to No. 20 with one regular-season game remaining.
It didn't come without a few anxious moments, however. NHS was ahead by nine points with 3:30 left in Thursday's game, but the Blue Devils battled back to close the gap to 47-46 on a three-pointer by Annaliese Felix with just over a minute remaining.
Possession changed hands several times over the next 60 seconds with neither team able to score. Finally, the game came down to Sunnyside having the ball on an inbounds play with four seconds left on the clock.
Two passes later, a Blue Devils player got the ball near the foul line with a clean look at the basket. However, her shot went wide left as the buzzer sounded to give Nogales the win.
The victory snapped a three-game losing streak for the Apaches – all against Southern Region rivals.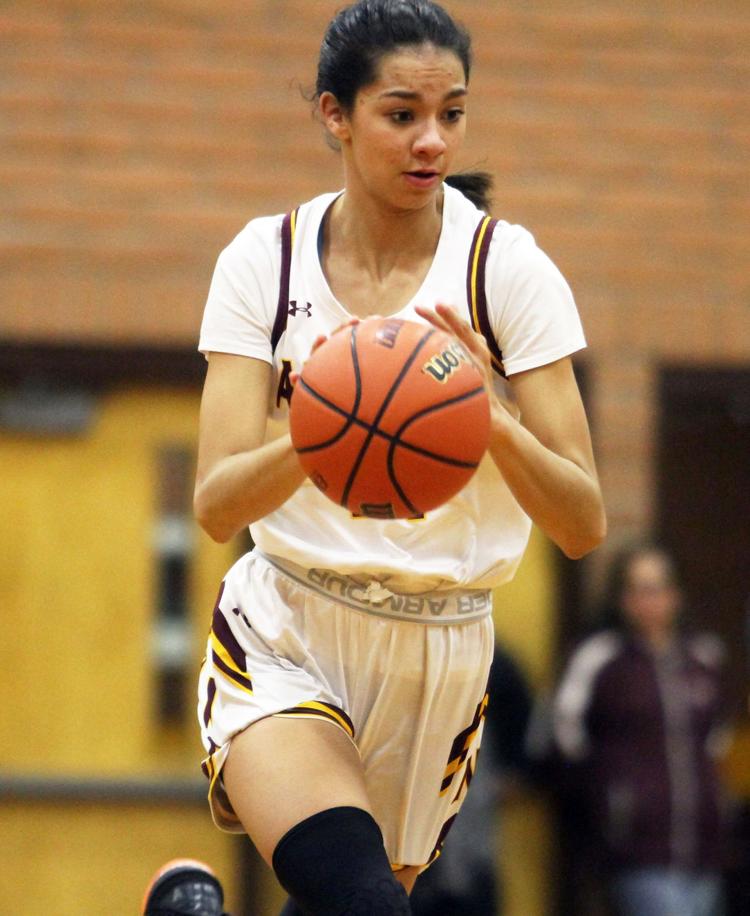 "The past few games we haven't been winning a lot because we haven't worked as a team. But today, we stepped up, we showed it, and we played together and that's what we needed in order to win," said Acosta, who led NHS with 16 points and 15 rebounds.
The Apaches trailed in the first quarter, but Eden Harrison hit a three-pointer at the buzzer to tie the score at 14 after eight minutes of play.
The second period began and ended with scoring drives by Alexa Colosio – the latter one coming with three seconds left in the half, which gave Nogales a 29-22 lead at the break.
Harrison, who was playing through a bout with the flu, hit another three-pointer at the start of the third period to give NHS a 10-point advantage. But Sunnyside answered with a 10-0 run to tie the game at 32.
The Blue Devils briefly took a 35-34 lead on a three-pointer by Angelina Alcantar with 1:17 left in the quarter, but two free throws by Acosta and a coast-to-coast scoring drive by Daniella Ochoa put Nogales back in front, 38-35, heading into the final quarter.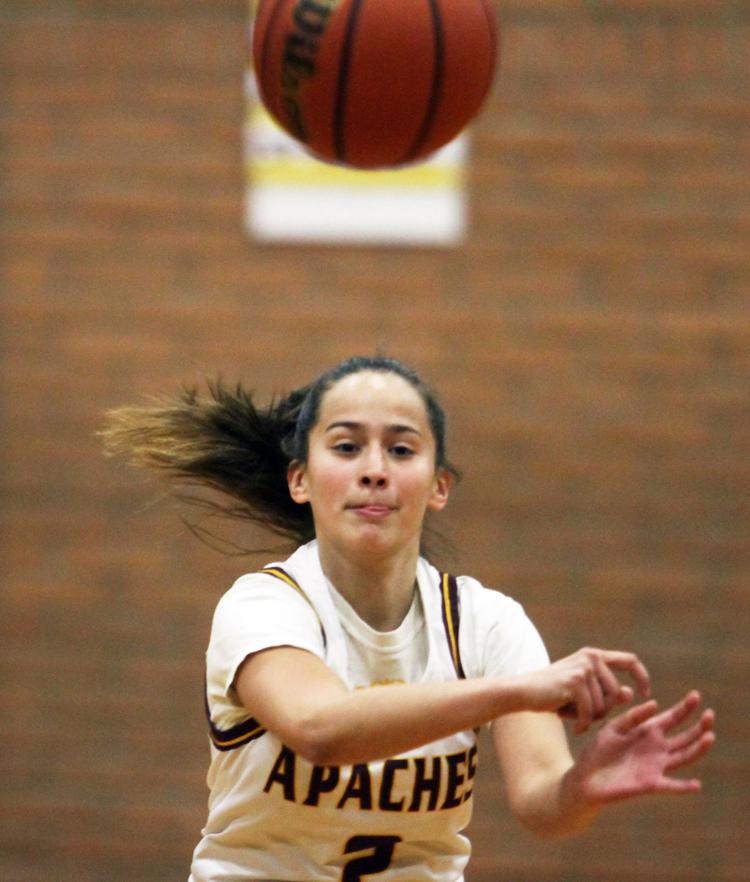 NHS once again kicked off the scoring in the period with a three-pointer — this one by Melissa Lopez. After a Blue Devils bucket, Ochoa hit a three-pointer and Acosta scored two more to put Nogales up 46-37 with 3:30 left in the game.
From there, they held on until the potential game-winning, last-second shot by Sunnyside bounced off the rim.
A key factor for Nogales was that they made their free throws – correcting a problem that has haunted them in close games this season. Collectively, the Apaches shot 9-for-11 from the charity stripe, with Acosta converting all eight of her attempts.
"Pretty much every practice, we work on our free throws – that's our main priority," she said.
In addition to Acosta's game-high 16 points, Colosio added eight and Jessica Villarino pulled down nine rebounds.
"My seniors were very critical today," NHS coach Yahaira Sanchez said. "Eden Harrison, who was sick, had two big buckets and came in and gave us big minutes. Alexa Colosio, same thing. Dominique (Acosta), as you saw. Even Carolina Durazo came in and she did her stuff. So our seniors played a big part in this win – and obviously my freshmen Dani (Ochoa) and my freshman Jessica (Villarino) and Melissa (Lopez) – everybody in general, it was a team effort. But I congratulate the seniors because they really stepped up today. They know that we're getting down towards the end of the season."
The Apaches are set to play their final regular-season game on Tuesday at home against Marana, starting at 7 p.m.
After that, they'll hope to earn a spot in the 5A Conference state tournament play-in round on Thursday, Feb. 13.