Nogales High School graduate Rafael Padilla is headed to Florida to play NCAA Division I baseball after a stellar two-year career at Pima Community College.
Padilla, a member of the Class of 2017 at NHS, signed a letter of intent to attend Bethune-Cookman University in Daytona Beach, Fla. and play for the school's Wildcats baseball team.
In 54 games this season for the PCC Aztecs, Padilla batted .344 with 54 hits, 31 runs, 10 doubles, two triples, two home runs, 39 RBIs and 30 walks. He had an on-base percentage of .459 and slugged .471.
As a freshman, the lefty-hitting outfielder posted a .309 batting average and .421 on-base percentage with 25 RBIs in 51 games.
He'll be joined at Bethune-Cookman University by PCC teammate Enrique Porchas, and infielder who signed with the Wildcats after a career in which he was twice named to the All-ACCAC second team.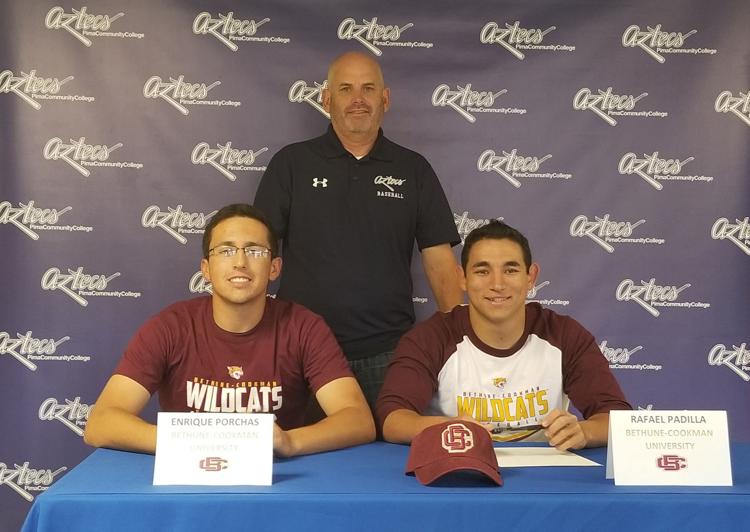 Porchas and Padilla were part of big turnaround for the Pima baseball program. In their freshman season, the Aztecs went 21-31 overall and 11-29 in ACCAC conference play. This year, they finished 36-19 overall and 22-16 in ACCAC play, posting the most wins in program history since 1993.
The Bethune-Cookman baseball team participates in the Mid-Eastern Athletic Conference. The Wildcats were 10-14 in conference play this season and 17-38 overall.
(From a news release submitted by Raymond Suarez of Pima Community College.)