A pair of four-run innings and the dominating pitching of Roman Bracamonte gave the No. 1-seeded Nogales Apaches an 8-0 victory over No. 4 Sunrise Mountain in the quarterfinals of the 5A Conference state tournament on Thursday.
The win at Diablo Stadium in Tempe sends Nogales – 18-0 in the regular season and 3-0 so far in the postseason – to a semifinal round game next Wednesday at Hohokam Stadium in Mesa.
Bracamonte, who shut down Sunnyside in the Apaches' opening-round win last Saturday, was even better on Thursday, when he allowed just three hits, two walks and a hit batter while striking out 10 over 6 1/3 innings.
The NHS offense gave Bracamonte and early cushion when the first four Apaches batters of the game all reached base and scored.
Demetrio Crisantes led off the bottom of the first and was hit by a pitch. A double by Gerardo Paco moved Crisantes to third, and then Raenen Padilla was hit by a pitch to load the bases for Thomas Teel.
Teel belted a pitch into the left-center gap for a double, driving home Crisantes and Paco.
Sergio Valderde followed with a sacrifice fly that scored Padilla, and the courtesy runner for Teel scored on a groundout by Derek Montijo.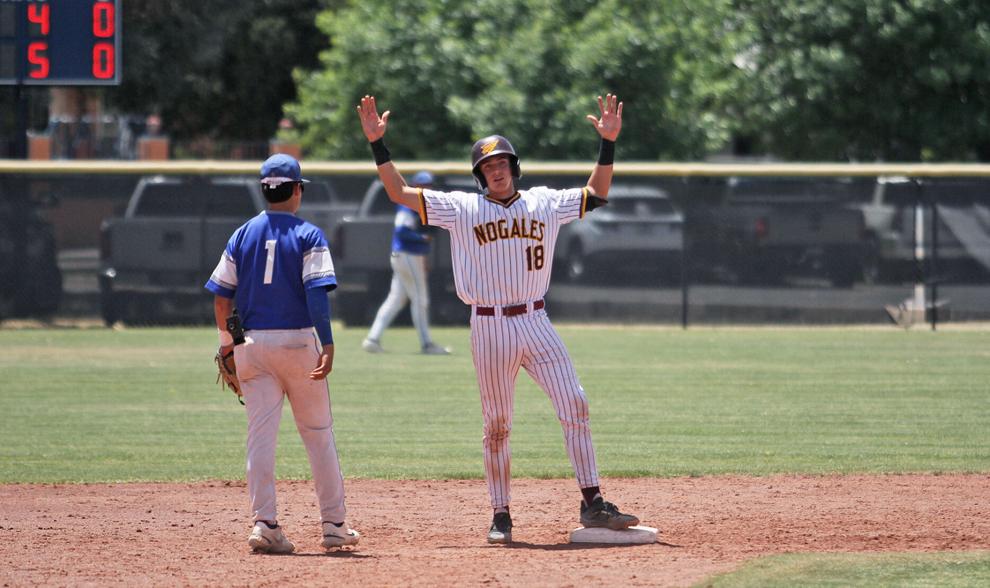 In the bottom of the fourth, the first four NHS batters once again reached base and scored.
Montijo led off with a walk, Julio Ramos was hit by a pitch and Luis Martin Romero singled to load the bases. Robert Gallego drew a walk to force home a run, and Ramos scored when the Sunrise Mountain right fielder misplayed a fly ball. Two more bases-loaded walks to Paco and Padilla brought the score to 8-0.
Meanwhile, Bracamonte kept Sunrise Mountain hitless until allowing a single with two out in the fifth. He turned the ball over to Saul Soto with two on and one out in the top of the seventh.
Soto walked the first batter he faced to load the bases, but got the next hitter to line out softly to shortstop Crisantes, who was shifted up the middle. Crisantes then raced to second base, beating the Sunrise Mountain runner to the bag for the game-ending double play.
The middle rounds of the tournament are double-elimination, and Desert Mountain and Sunrise Mountain will play on Monday to determine which team gets another shot at Nogales in next Wednesday's semifinal at Hohokam Stadium in Mesa.
If Nogales wins Wednesday's game, they'll advance to the single-elimination state championship game on May 17 in Tempe. But if they lose Wednesday's semifinal, they'd play the Desert/Sunrise Mountain winner again the next night in Mesa.