Nogales High School senior Jose "Panda" Jimenez chased his dream of playing college football. Or as NHS coach Jake Teyechea said: "He took a shot."
And it paid off. On Tuesday, Jimenez signed a letter of intent to study and play football this fall at Minnesota State Community and Technical College.
M State, as the school is known, is a two-year college based in Fergus Falls, Minn. Its Spartans football team competes in the Minnesota College Athletic Conference, part of National Junior College Athletic Association.
Jimenez was listed as a linebacker on the NHS Apaches roster last season, and made 21 solo and 28 assisted tackles in eight games, also recording a sack, an interception and two fumble recoveries, according to team stats posted to MaxPreps.com.
He occasionally played on the offensive side as well, carrying the ball 25 times and racking up five receptions. At M State, he said, he'll be ready to play offense if needed, but was recruited as a defensive player.
"Mostly, they're looking at me as a defensive back and a cornerback," he said.
Jimenez told the NI he plans to focus his studies toward an eventual career as a chiropractor, with a minor in psychology.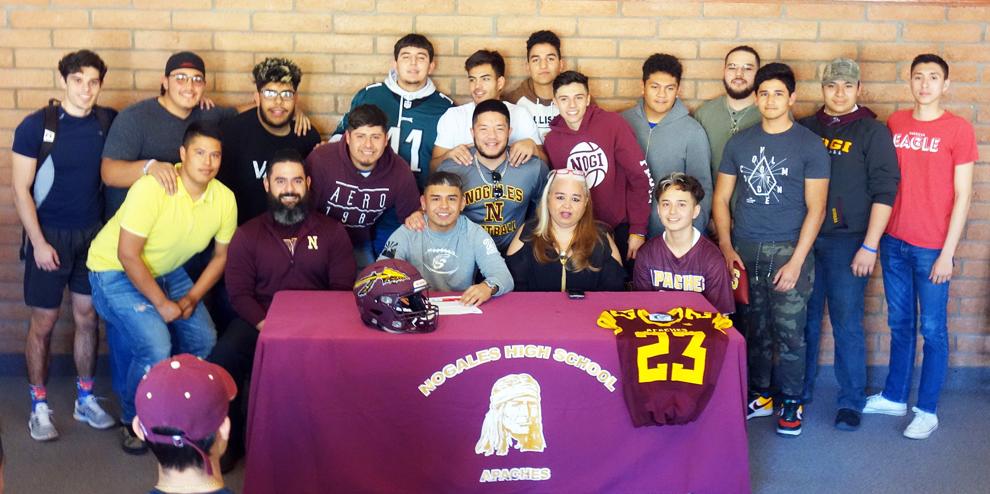 Speaking during Tuesday's signing ceremony at NHS, Teyechea credited Jimenez for taking the initiative to reach out to colleges in hopes of being recruited.
"The fact that you chased after all these colleges – this is your dream, this is what you wanted – and you found a place that wants you, I think you're going to fit in just fine," he said.
After signing on the dotted line, Jimenez thanked the crowd of family and friends who gathered for the occasion.
"I honestly enjoyed seeing everybody here. This means a real lot to me, especially because I'm going away from my family – miles away," he said. "But I'm doing this for my own good. And, well, go Spartans!"