Two Nogales High School seniors signed letters of intent this week to continue their academic and athletic careers at Cochise College in Douglas.
Marlene Padilla and Maile Vasquez committed to playing soccer at Cochise during a ceremony at the NHS gymnasium on Wednesday.
"I've had the opportunity to coach these girls for the last two years and I'm super proud of both of them to go on to the next step. They contributed a great deal to our program," NHS soccer coach Hugo Luna said, adding that it was only the beginning of more difficult work to come for the two student-athletes.
Padilla, a midfielder, was honorable mention all-5A Conference Southern Region in 2019, and honorable mention all-4A Conference Kino Region in 2017.
In college, she plans to major in education to pursue her goal of becoming a teacher, she said.
"I'm looking forward to having a good season, meeting new friends and just studying for my education," Padilla said, adding that training will be one of the biggest challenges moving forward. "I'll be practicing more. Instead of doing one hour in high school, I'll be doing more like three hours."
Vasquez, a defender, made headlines as a junior in 2018 when she became the first female varsity player in the history of the NHS football program. As a place kicker, she booted six extra points in a single game – widely believed to be an Arizona state record for most extra points by a female kicker in a football game.
She opted to focus on soccer her senior season, however.
"I definitely know that college soccer is way harder than high school soccer, so I'm ready to stay fit and just be the best I can be. I've already met the team, so I'm just so excited to bond with them," Vasquez said, adding that she plans to major in criminal justice and become a law enforcement officer.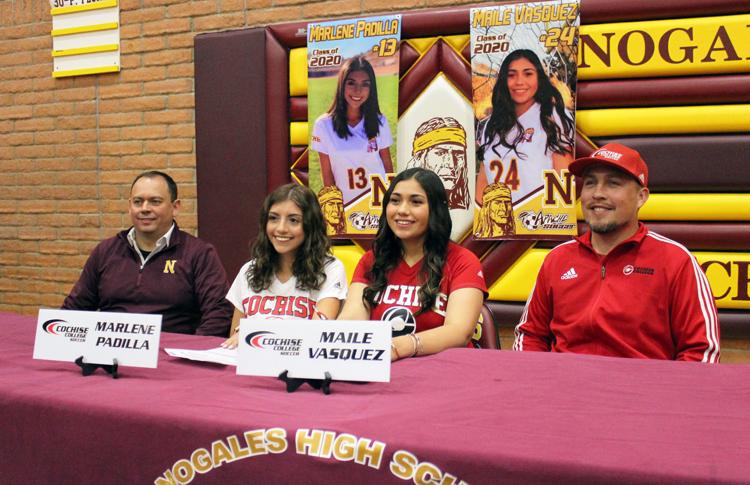 The Cochise College Apaches women's team finished the 2019 season 8-4-2 overall and in first place in the Arizona Community College Athletic Conference with a 7-0-2 mark.
"I was happy to see them come and check out the school and see everything that we have to offer, and they solidified it for me in wanting them to play on my team," Cochise soccer coach Bobby Peters said. "Now that you signed, you really have to start focusing on improvement, on yourself, working in the off-season and we'll begin on that."