Recent Nogales High School graduate Sabina Romero, who broke five school records in track and field while at NHS, formally committed on Tuesday to continue her studies and athletic career at the University of Arizona.
Speaking to the large contingent of family, friends and school staff on hand at the NHS campus to see her sign her letter of intent, Romero expressed her appreciation for the support they had given her.
"It has been a really long journey and I wouldn't be where I am without Nogales High School and the track team and the wonderful coaches," she said. "And I'm really excited for what's coming up next and I'm very grateful for everyone here."
Romero's school records at NHS came in the 100-meter hurdles (16.34 seconds), 300-meter hurdles (49.15 seconds), long jump (18 feet, 2.5 inches) and the high jump (5 feet, 6 inches). She also set a new NHS mark with a score of 3,541 in heptathlon, a competition that consists of seven events including the 100-meter hurdle, high jump, shot put, 200-meter dash, long jump and the 800-meter run.
She won the Arizona Division II high jump championship during her sophomore year, and her prowess in the event earned her an invitation to the National Scholastic Athletics Foundation's Annual Outdoor Nationals held last weekend at the University of Oregon.
Her father Eric, who coached her in high school, said his daughter plans to start out at the UA by focusing on the high jump and the 100- and 400-meter hurdles. Down the road, she'll look to compete in the heptathlon as well.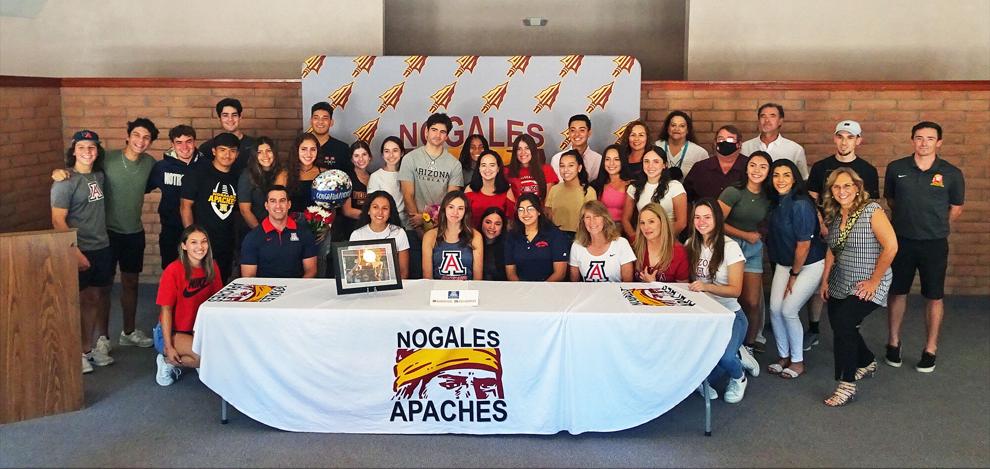 Speaking during the signing ceremony, Eric Romero said Sabina had given "memories for us for a lifetime."
"Everything she gained, she earned it all by herself," he said.
Other speakers also noted her work ethic and development.
Athletic Coordinator Eric Sowle recalled that his first encounter with her was during a freshman girls basketball game, "where she was tripping over her own feet."
"And now she's up here," he continued, "signing her letter of intent to continue her athletic career wth the University of Arizona."
Head track coach Liz Thomson noted Romero's strong character, as well as her drive and dedication.
"I've never seen a girl, and athlete, more driven and dedicated and working harder. And that's what it takes," Thomson said.
Coach Leo Federico spoke of Romero's promising future.
"There is nothing but opportunity that awaits you from this point forward. And you're going to go with mindful confidence, believing that you are going to become one of the single greatest academic and athletic ambassadors this school has produced," he said.
Romero was president of the student body at NHS, a top student and member of numerous honor societies. She's planning to focus her studies at the UA on biomedical engineering.
"Her athletic accomplishments are unparalleled," said NHS Principal Tim Colgate. "But beyond that, she is a fantastic young lady, an unbelievable student and a student leader, and somebody that I hope all the next generations coming up can look up to and try to become a Sabina Romero."