Nogales High School senior Karla Soto signed a letter of intent to play volleyball at Pima Community College in Tucson next year.
Family and friends surrounded Soto in support last Thursday afternoon as NHS athletic director Eric Sowle and volleyball coach Pat Valenzuela praised her work ethic, talent and coachability.
"I can tell you right now, she's one of the hardest workers out there that I've witnessed and I'm proud to see her move on to the next level," Sowle said.
Soto, a setter, was a four-year starter for the Apaches varsity team.
During her sophomore year in 2017, she was a key member of a Nogales squad that went 16-3 and advanced to the quarterfinal round of the state 4A Conference tournament. She was named to the 4A Kino Region's first team all-star squad after finishing second in the region with 419 assists.
The next year, 2018, was a rebuilding season for the Apaches as they moved up to the larger-school 5A Conference. Still, Soto was named a second-team all 5A Southern Region performer at the end of the year – a distinction she earned in her senior season as well.
As a senior last fall, Soto led NHS in almost every major statistical category, including kills (146), kill percentage (60.6), assists (138), serving aces (45) and digs (198), according to MaxPreps.com.
"She's been a role model all around – on the court, off the court, a friend, an awesome player. She's the one that all coaches dream of," Valenzuela said.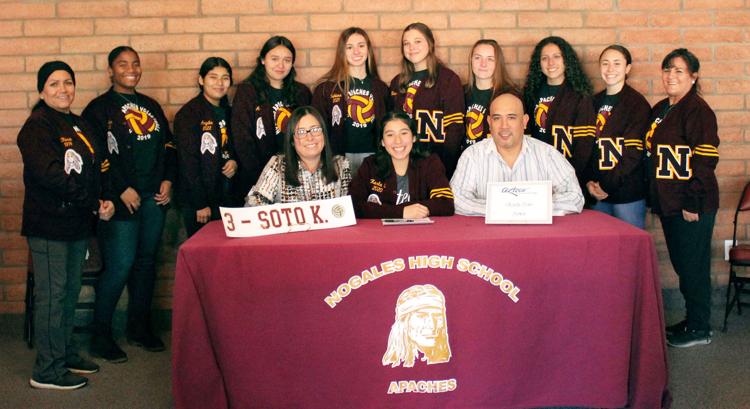 While she doesn't see many challenges in going from high school to college volleyball, Soto said she thinks it will be a bit more difficult to adjust to a new schedule.
"With school and volleyball together, and going out to trips for away games, and connecting that to school is going to be really hard," she said, adding: "I already want to start playing. I'm super excited for my first games because my family will be there."
As for her academic plans at PCC, Soto said she plans to major in computer science and cybersecurity.
"I think technology is a fascinating thing and it's a new innovation in the world, so I think it's going to have jobs all the time," Soto said.