Two Nogales High School baseball players wasted no time in solidifying their post-graduation plans when they inked college letters of intent on Wednesday, the first day of the 2019-2020 signing period.
NHS senior Matthew Bachelier formally committed to Gonzaga University in Spokane, Wash., and his classmate Kenneth Jimenez signed with Yavapai College of Prescott during a ceremony at the school that was attended by dozens of friends and family members.
O.J. Favela, head coach of the Nogales Apaches, called the event a "celebration for Kenneth and Matthew and both of their families," and noted that the two are poised to join a list of 13 NHS alumni currently playing college baseball around the country – including Bachelier's older brother Marcel and Jimenez's older brother Kevin. He added that two more former Apaches are now coaching in professional baseball, one is coaching in college and one is playing minor league baseball.
"The opportunity that these kids are getting out of Nogales is awesome, because we have wonderful support," Favela said.
Bachelier and Jimenez were both named to the 5A Conference Southern Region all-region second team as juniors in 2019. Bachelier, a right-handed pitcher, went 5-1 with a 1.19 ERA and 51 strikeouts in 35.1 innings for the Apaches, while Jimenez, a multi-position player who is going to college as a catcher, posted a .337/.460/.528 slash line (batting/on-base/slugging) with nine doubles and four triples in 30 games.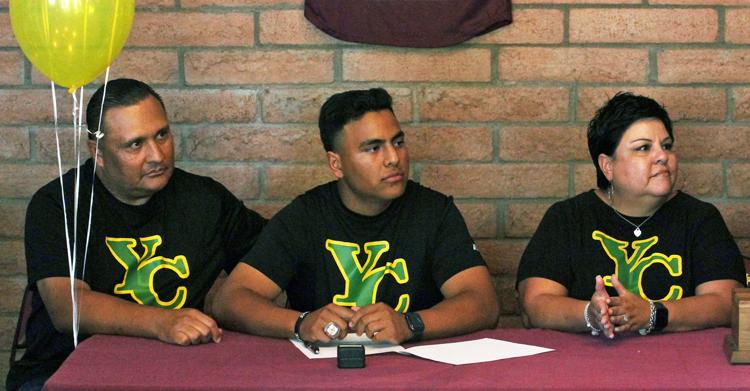 Jimenez had initially verbally committed to New Mexico State University, where his brother plays. But a coaching change at NMSU led him to reconsider his options, and he settled on Yavapai.
"All around, it was just a really good program," he said of his decision. "I wanted to win, and they win a lot."
The Roughriders baseball team at Yavapai College, an NJCAA Division I program, tied for third in the 14-team Arizona Community College Athletic Conference in 2019 with a 24-14 conference mark and were 37-19 overall. The team's Twitter feed notes the program's four national championships, 21 Major Leaguers produced and more than 175 players drafted.
As for a major, Jimenez said he will probably study criminal justice.
Bachelier said he connected with the coaching staff at Gonzaga after they saw him at a showcase in Phoenix.
"They seemed to like me a lot. They contacted me to come down and watch me another time, and after that they asked me out on an official visit and I just fell in love with it," he said.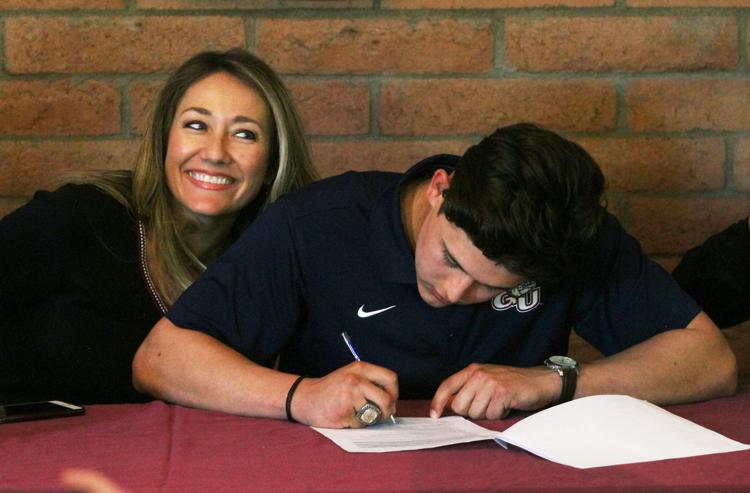 In a statement posted to the Gonzaga website, head coach Mark Machtolf called Bachelier one of the top right-handed pitchers in Arizona.
"He has a chance to be a frontline weekend starter in his career, and we look forward to being a part of his development," Machtolf said.
Bachelier said he's not sure of a major yet, but he's considering a focus on law.
Marcel Renteria, a 2013 graduate of NHS who went on to play junior college and Division I baseball, and who now pitches for the New York Mets organization at the Double A level, was on hand Wednesday to support Bachelier and Jimenez and encourage them to carry on the Apache tradition.
"As you guys go on to your other programs, remember that our style of play is now a brand," he said. "And every time you guys go into the weight room, and the classroom and to practice, do the best you can to represent that every day."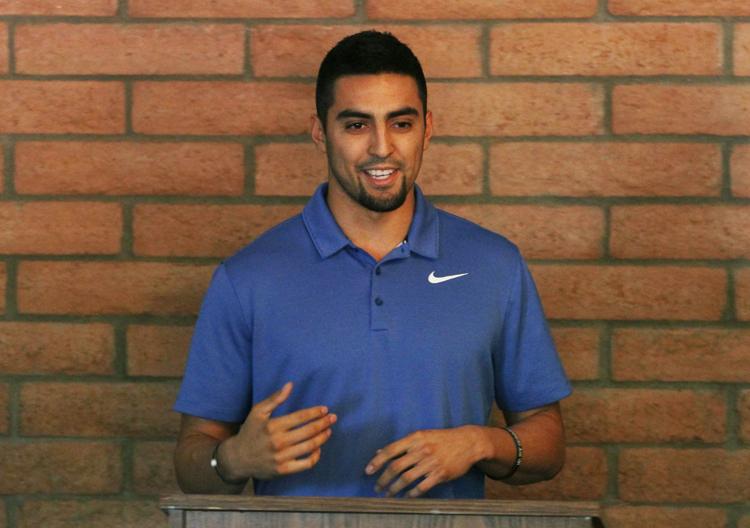 As they signed their letters of intent, Bachelier and Jimenez were joined at the table by their parents, Paul and Fernanda Bachelier, and Roy and Cathy Jimenez.