The Nogales High School boys and girls cross country teams both overcame injuries to win their only home meet of the year on Wednesday against Marana and Florence.
The girls, who began the day with one of their top runners out with a balky ankle, weathered a mid-race injury to pace-setter Felisha Lerma to win with 25 points, five ahead of second-place Marana.
After two Marana runners took first and second place, five consecutive Nogales athletes crossed the finish line to cement the team's leading position.
Carolina Durazo was third at 23:03, followed by Elizabeth Fuentes at 23:21 and Sofia Durazo at 23:27.
Next, in sixth place, was Alex Maldonado with a time of 23:51 and Jacqueline Larson in seventh at 24:13.
"Our middle pack, they're all tight and they all come in together," coach Liz Thomson said. "So we don't have a superstar, but we have a solid team and that makes a big difference."
Andrea Torres and Roberta Gracia were 11th and 12th, respectively.
In addition to Wednesday's win, the Apaches have captured some first-place finishes at large meets this season: they won the Los Mezquites invitational in Tucson last month, as well as the freshman-sophomore race at the Cesar Chavez Classic last weekend in Phoenix.
"I've got some real great young players. I mean, everyone's doing wonderful, but I've got a couple of fantastic freshmen and some sophomores that are moving up," Thomson said.
Still, NHS needs to move past a few teams in the rankings – including Marana, whom they beat Wednesday – to make the state championship race, Thomson said.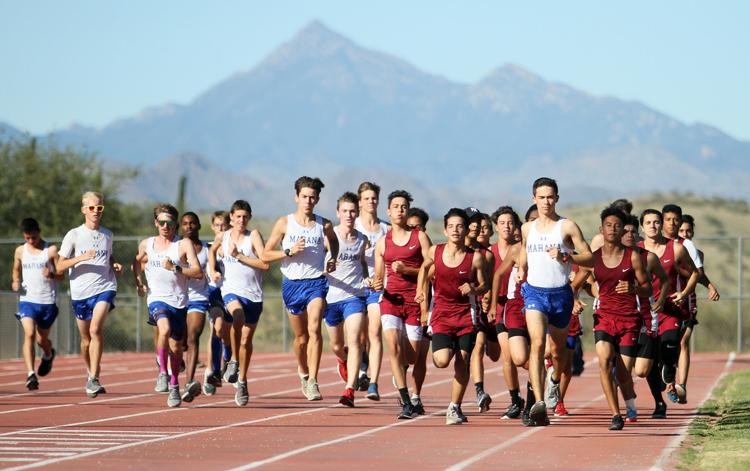 On the boys side, Daniel Corrales led the Apaches runners, finishing second with a time of 18:07. Ivan Rubio was third at 18:26 and Gibran Chavez, who led the race early, finished fifth at 18:47 after being slowed by an injury.
"Danny Corrales stepped up to the front – something happened with Gibran, he got injured – so he picked it up," coach Armando Romero Davis said. "And Ivan has been a nice surprise. He's been placing in the top four in every race for our team."
JP Cervantes (seventh, 18:52) and Ramses Vazquez (10th, 19:43) rounded out the top five finishers for NHS, who earned a collective 27 points, ahead of Marana with 37 and Florence with 84.
Oscar Contreras and Parker Jeong were just out of the race's top 10 at 11th and 12th place, respectively.
"I think all of the kids were satisfied with their times, because this is a tough course," Romero Davis said, adding that since it was their only home meet, the kids were especially motivated to do well.
The Nogales boys and girls teams return to action Saturday at the Rio Rico Rattler at Rio Rico High School, with race times starting at 8:30 a.m. and continuing until 11:15 a.m.