Nogales native and horse trainer Bob Baffert reached a new pinnacle in his Hall of Fame career last weekend, and he did it with an unlikely horse.
Baffert-trained Medina Spirit, a 12-to-1 shot ridden by Hall of Fame jockey John Velazquez, beat Mandaloun by a half-length to win the Kentucky Derby on Saturday, earning Baffert his record-setting seventh Derby victory as a trainer. He had previously been tied with Ben Jones for the record.
Medina Spirit was purchased as a yearling for $1,000, and bought by current owner Amr Zedan of Saudi Arabia for the relatively bargain price of $35,000.
"I cannot believe he won this race," Baffert said afterward, the Associated Press reported. "That little horse, that was him, all guts. He's always shown that he's been an overachiever. His heart is bigger than his body."
Medina Spirit's margin of victory made for the closest Kentucky Derby finish since 2005. The AP described the trainer's reaction like this:
"Baffert punched his right arm in the air after watching the finish on the video board. He was buried in celebratory hugs by his wife, Jill, and youngest son, Bode. Jill Baffert had reason to celebrate earlier, when a horse she co-owns and is trained by her husband won a $500,000 race on the undercard."
Bob Baffert's other victories at Churchill Downs came in 1997 (Silver Charm), 1998 (Real Quiet), 2002 (War Emblem), 2015 (American Pharoah), 2018 (Justify) and 2020 (Authentic).
Baffert, now 68, is also the second trainer ever to win two Triple Crowns. He was inducted into the Racing Hall of Fame in 2009 and the Arizona Sports Hall of Fame in 2010.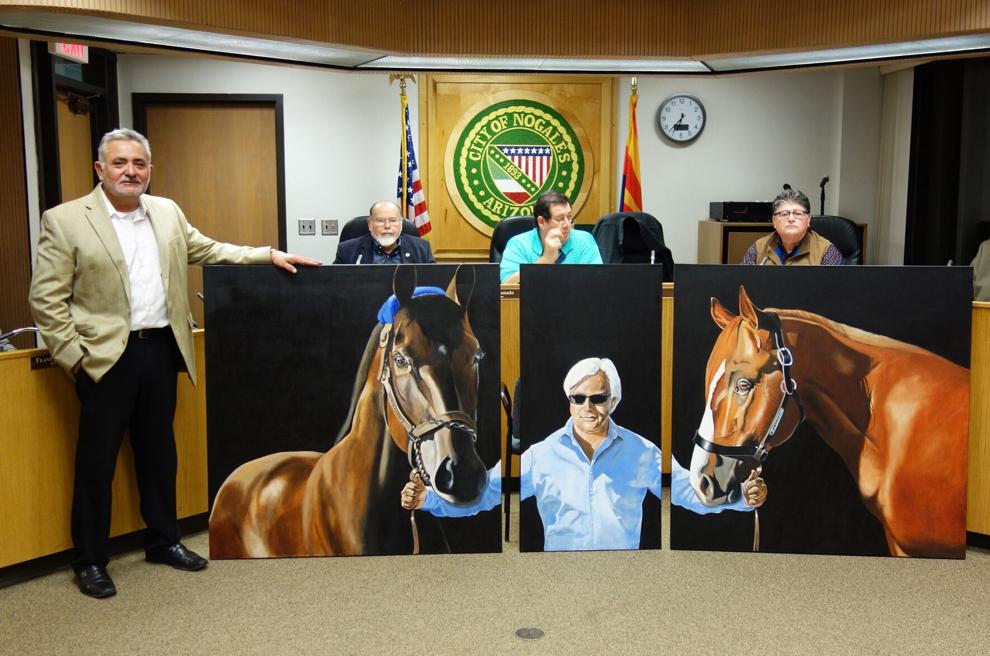 Baffert grew up in and around Nogales, and graduated from Nogales High School in 1971. He starting his racing career as a jockey at a dirt airstrip on a ranch on Mariposa Road, where the ranch manager put on match races. He was also a familiar figure at the racetrack in Sonoita.
"Sometimes I can't believe it all started in little Patagonia, Ariz. – Sonoita," Baffert told the NI in an interview in 2015.
In 2018, the Nogales mayor and council proclaimed Jan. 13 – Baffert's birthday – as Bob Baffert Day in Nogales.