Technically, there's no winner or loser in a tie game.
But that doesn't mean the participants can't interpret a tie as a win or loss, as was the case after the Rio Rico Hawks and Nogales Apaches baseball teams played to a seven-inning, 4-4 draw on Thursday at RRHS.
"We take it as a win because that's a 5A powerhouse over there," Rio Rico head coach Hector Zuniga said after the game was called due to darkness. "It's not a loss, and it's definitely a win for us morale-wise."
Nogales head coach O.J. Favela, whose team came into the game with a 4-0 record, wasn't viewing it as a neutral outcome, either.
"We lost. Thats a loss for us," he said. "They played well and we didn't, bottom line."
Still, Nogales will have a chance to turn their subjective loss into an official win – and the Hawks will have the opportunity to swap their moral victory for a real one – after the Arizona Interscholastic Association on Friday refused to allow the game to be recorded as a tie. Instead, the teams will have to pick up right where they left off, in the top of the eighth inning of a 4-4 game, starting at 4 p.m. on April 26 at RRHS.
That means all the action that happened Thursday – including a late-inning go-ahead home run by a sophomore playing in his fourth high school game, and the potential game-deciding run cut down at the plate on a seventh-inning squeeze attempt – is in suspended status, waiting to become official once one team definitively wins and another loses.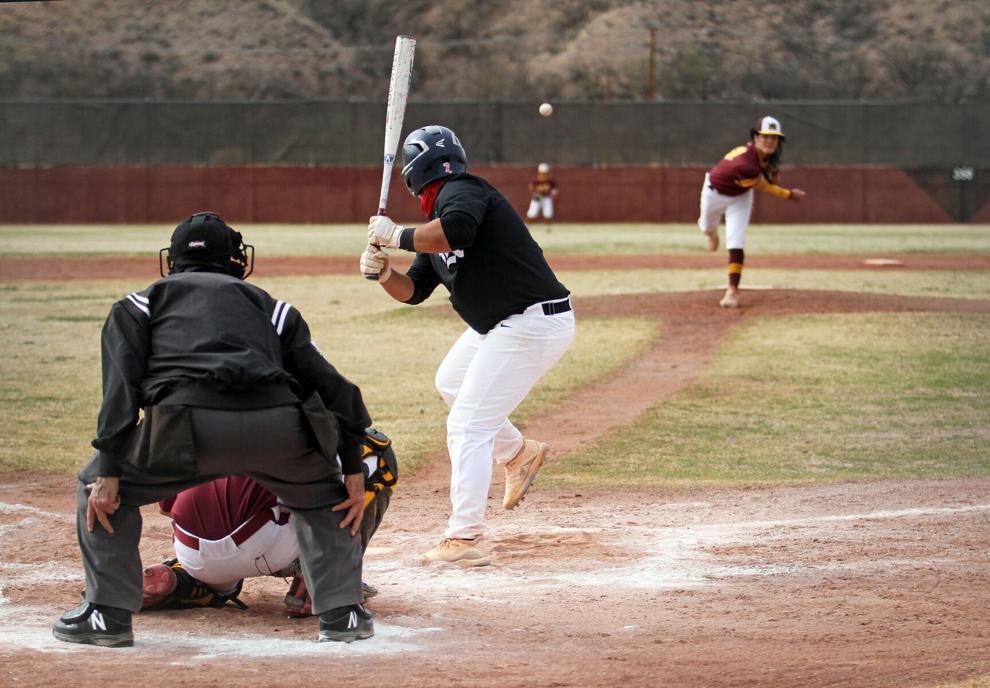 Nogales was first to score in Act One of the now-two-part drama when Pablo Araujo singled to lead off the top of the second inning and, after an out and a walk, came in to score on an RBI single by Emilio Caballero.
The Apaches added a run in the third inning when Raenon Padilla doubled, advanced to third on a single by Brian Garcia and scored on an infield hit by Araujo.
That made it 2-0 in favor of Nogales, but it could have been worse for the Hawks. In both the second and third innings, starting pitcher Raul Garayzar pitched out of jams to strand two runners on base in each frame.
That kept things close enough for Rio Rico to come back in the bottom of the third. With two out, Victor Coronado homered to center field. Two batters later, Derek Montijo singled home Ryan Zuniga to tie the game at 2-2.
Garayzar walked a tightrope again in the top of the fourth, getting out of a bases-loaded, one-out jam with a pop-up and strikeout. Then in the fifth, he gave up a leadoff single to Garcia, but retired the next three batters – two on strikeouts.
"We left too many guys on base," NHS coach Favela said. "Garayzar did a really nice job of keeping us off balance and we didn't square many balls up today."
Garayzar pitched to two more batters in the sixth, retiring both, before he reached his pitch limit and had to be removed.
The Apaches then put two runners on against Coronado, who came on in relief, with a walk and hit batsman. Padilla followed with a run-scoring single that put Nogales in front 3-2.
Rio Rico came right back in their half of the sixth when Zuniga led off with a triple to right, and Montijo followed by blasting a home run over the left field fence to put the Hawks in front, 4-3.
"I was just trying to get something into the outfield and wasn't trying to do too much, just trying to score that run, and it happened," the Hawk sophomore said of his blast.
Asked how he felt as he rounded the bases, Montijo noted the game situation at the time, and that his homer put the Hawks up with three defensive outs to go. "It felt amazing," he said.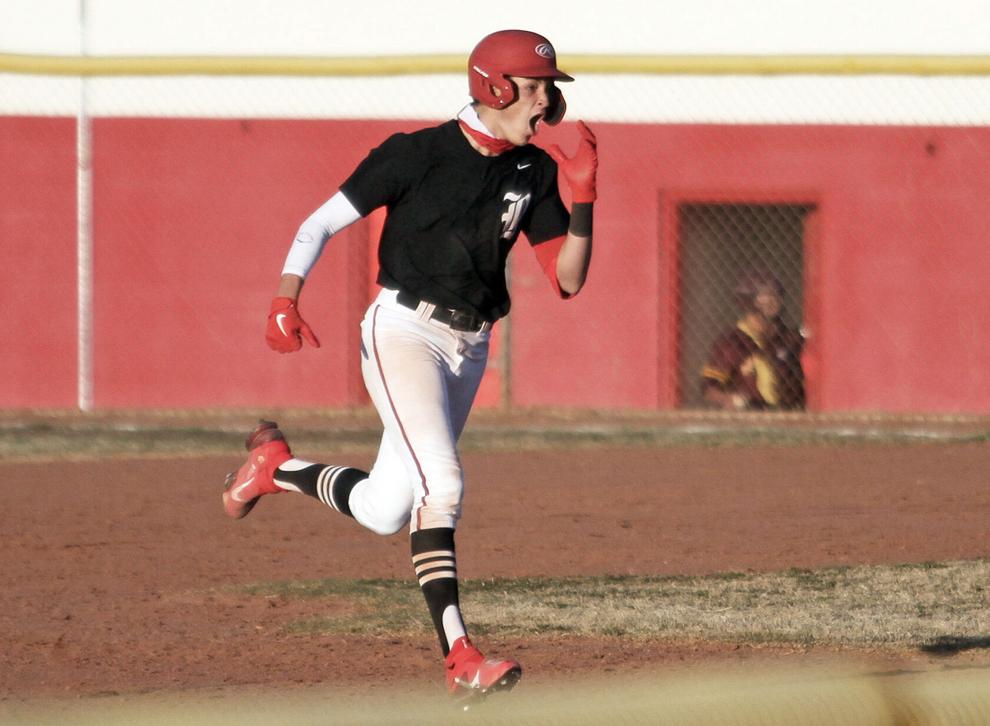 Three outs from defeat, Nogales rallied in the top of the seventh, starting when Garcia led off the inning with a double to left-center. Montijo came on to pitch for Rio Rico and struck out the first batter he faced. But Victor Vasquez reached on an infield single that moved pinch-runner Robert Gallego to third.
Then with Thomas Teel at the plate, the Apaches played hit-and-run. As pinch-runner Albert Badilla took off from first and Rio Rico second-baseman Jose Valle moved to cover second, Teel slashed a hard grounder through the open hole on the right side of the infield, scoring Gallego and tying the game at 4.
Badilla advanced to third on the play, and the Apaches tried to bring him home with a suicide squeeze in their next at-bat. But the bunt went right to Montijo, who threw home to get the sliding Badilla. The next batter grounded into a fielder's choice to end the inning.
Speaking after the game, Favela said he was frustrated with the unsuccessful squeeze play, but pointed to the comeback as a bright spot for his team.
"I'm proud of my guys for, in the top of the seventh, coming back and scoring that run and tying the game," he said. "But again, we just left too many guys on base."
Another bright spot for the Apaches: a strong performance by starting pitcher Albert Dominguez.
"I told the team, 'You know, he's pitching a heck of a game, we need to get him some runs,'" Favela said.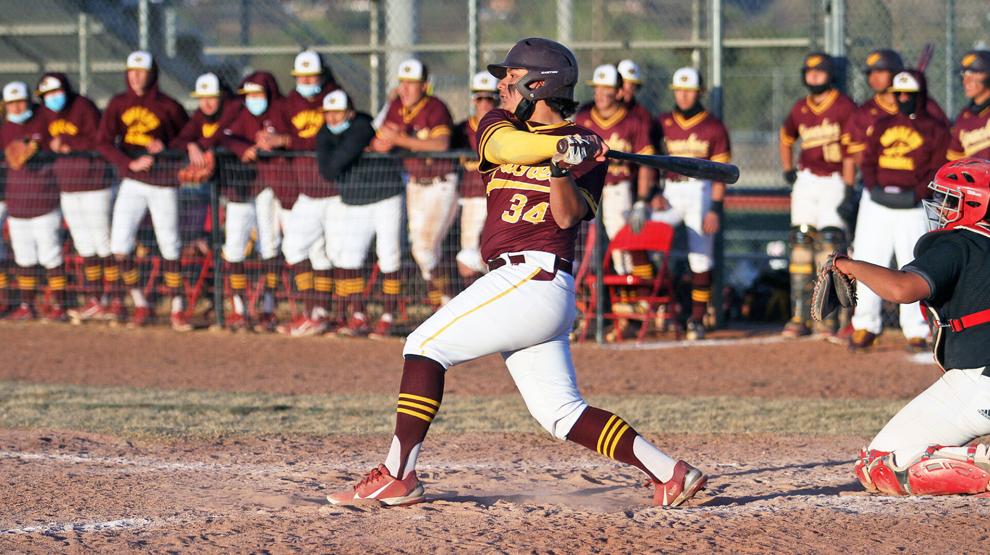 The Hawks tried to walk off with the win in the bottom the seventh when Peralta led off with a single against reliever Roman Bracamonte, and moved to third on a sacrifice bunt and fly ball to right. But with two out, Caballero hit a ground ball toward the middle of the diamond that was fielded by Nogales shortstop Demetrio Crisantes, who threw to first in time to get Coronado, who dove head-first into the bag.
The just-miss walk-off didn't dampen the spirits of the Hawks.
"I'm very excited, I'm happy for the kids," Coach Zuniga said afterward. "The kids earned it. They worked so hard to get to this level to be able to compete with Nogales. I'm proud of my kids, and 4-4, we'll take it anytime."
Montijo talked about the tie with Nogales as a confidence-builder for Rio Rico (2-1 so far this season) going forward.
"They're a good team. They're top-ranked and they have some studs on that team. They're really good. And for us to come in and just fight all game and keep it a tie, I feel pretty good about our chances this season," he said.
Asked if the disappointing outcome for Nogales could serve as a beneficial learning experience for his team, Favela said: "Time will tell. Hopefully this hurts and we'll see what happens."
He noted that some of the NHS players missed out on valuable experience when the 2020 season was cut short, but added that the roster is loaded with juniors and seniors.
"We have to bounce back, there's no other way," Favela said. "We've got the talent to put something together and make a run. Our conference is tough so we've got to just get it going."
And four weeks from now, they'll have the rare opportunity to bounce back and try to redefine an early season disappointment as a late-in-the-schedule success.