All four Nogales High School girls track and field athletes who competed at the state meet in Mesa delivered a top 10 finish, including sophomore Sabina Romero, who won the Division II championship Saturday evening in the high jump.
Romero and NHS junior Dominique Acosta went to the state meet having finished second and first, respectively, at the Southern Arizona track championship last month. On Saturday in Mesa, Romero got on a roll and "everything was clicking for her," said coach Liz Thomson.
Romero's championship jump came at a height of five feet, six inches, and she was flawless in her jumps leading up to that height, Thomson said.
"What's so impressive is that she didn't have a single miss. It was pretty amazing," she said.
As a freshman, Romero was sixth at the state finals, recording her highest jump at 5'2.
This year, she and Acosta each came into the finals with a season-best 5'7 jump. Acosta was unable to approach that mark on Saturday, but still finished eighth in D-II with a 5-foot effort.
"She was very happy for her teammate, obviously, but she was disappointed in herself," Thomson said of Acosta. "But honestly, she shouldn't have been because what she has done has been so incredibly impressive."
This is Acosta's first season of track, and she qualified for the state meet at her first invitational after only two weeks of practice, Thomson noted. She added that Romero's and Acosta's 5'7 jumps qualified them for the Great Southwest Track and Field Classic in Albuquerque, N.M., which is billed as one of the top four postseason regional high school invitationals in the nation, and the coach hopes to take them both to the event in June.
In other events at the multi-day D-II meet at Mesa Community College, Acosta finished 10th in the triple jump. "She has a lot of promise there as well," Thomson said.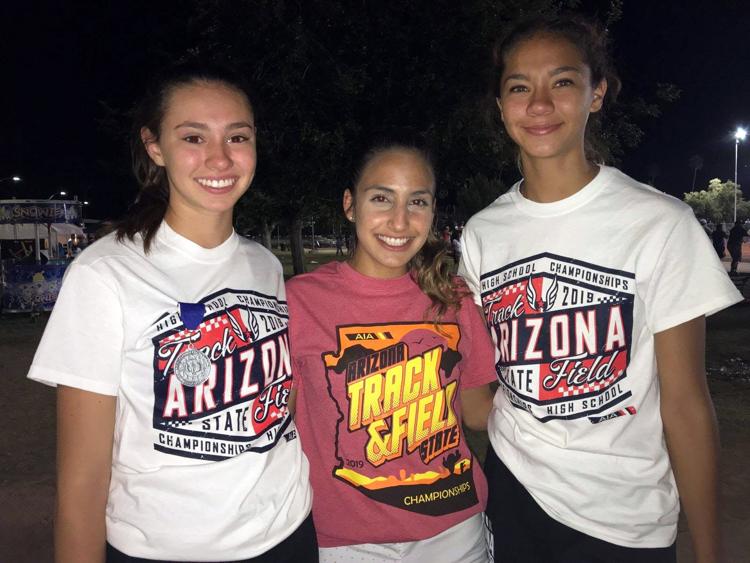 Irela Lopez, a junior at NHS who finished ninth in the long jump at last year's state meet, improved to eighth this year. And she just missed qualifying for state championship race in the 100-meter sprint.
"She's looking already to next year and what she wants to accomplish next year," Thomson said.
Senior Czarina Mada, who like Acosta was participating in her first season of track, was ninth at the state meet in the javelin, throwing it 99 feet, nine inches.
"We didn't even have javelin the beginning of our season, they just brought it out after our first couple of meets and she thought, 'Oh, I'll try this,' and then she went out and she was just amazing at it," Thomson said.
Thomson, in her first season as NHS girls track coach, called it a "very successful" campaign.
The program met its major goals – increasing participation, retaining athletes, avoiding major injuries and going to the state meet. "Plus, it's a real positive group of kids," she said."They're just an amazing group of girls that are so much fun to work with."
She also received a lot of help from her assistant coaches as well as boys track coach Jake Teyechea, she said. Sabina Romero's father Eric, a former championship athlete at NHS, helps coach the high jumpers.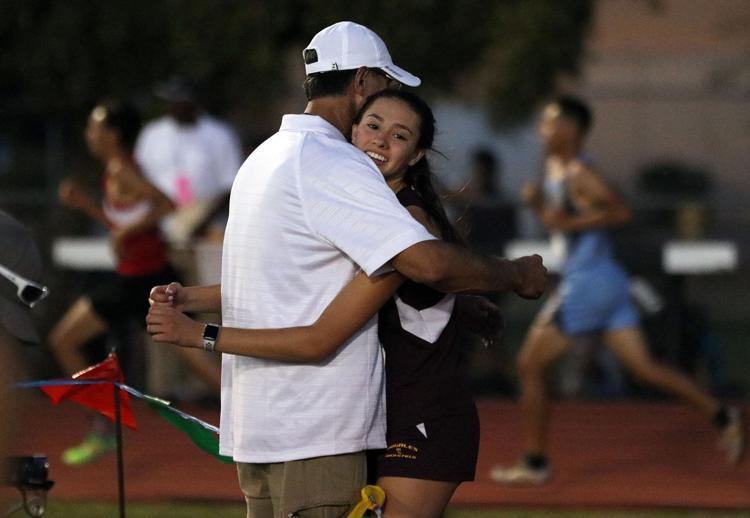 On the boys' side of the D-II state meet, NHS senior Brandon Rojas finished 13th in the shot put and Sebastian Armenta was 11th in the discus.