The Nogales Apaches got strong pitching performances from Roman Bracamonte and Albert Dominguez, but couldn't muster any offense and lost Saturday's first-round playoff baseball game to the Apollo Hawks, 2-0.
Alex Nieblas went the distance on the mound for Apollo to record the shutout, as the No. 11-seeded Hawks upset the No. 6 Apaches to advance to the quarterfinals of the 5A Conference tournament.
The Hawks scored their first run on two Nogales errors in the second inning. They added another in the third on a hit batter, a sacrifice bunt and a run-scoring hit by Victor Becerril.
The Apaches put two men on in the bottom of the second, but had a runner picked off second to end the threat.
In the bottom of the fourth, Brian Garcia singled with one out and stole second. Thomas Teel followed with a single that sent Garcia to third, and pinch runner Robert Gallego stole second to put men on second and third. But Nieblas retired the next two batters to preserve the 2-0 Apollo lead.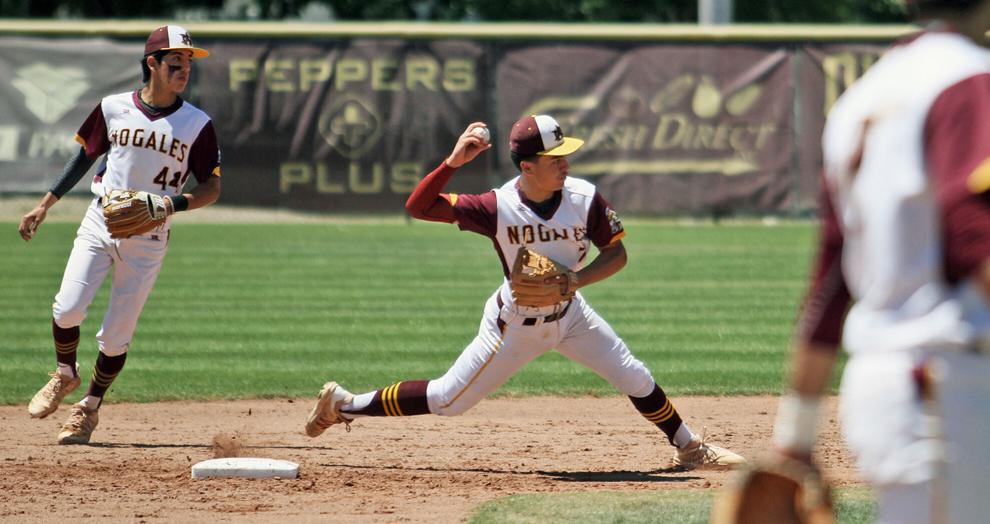 The Hawks tried to add an insurance run in the top of the seventh, but Nogales left fielder Pablo Araujo threw to catcher Thomas Teel to cut down an Apollo runner attempting to score from second on a hit.
Gerardo Paco singled with two out in the bottom of the seventh to keep Nogales' hopes alive, but Nieblas retired the next batter on a fly ball to end the game and the Apaches' 2021 season.
Nieblas induced nine NHS batters to fly out and another to pop out. He struck out four, walked none, hit three and allowed five hits.
Bracamonte started for Nogales and pitched five innings, allowing two runs (one earned). He struck out six batters, walked none, hit one with a pitch and allowed just one hit. Dominguez struck out four batters, hit one and allowed one hit in two innings of work.