Heading into the fourth quarter of Monday's MLK Classic contest with Cholla, things were looking iffy for the Nogales Apaches boys basketball team.
After roaring to a 23-13 first-quarter lead and taking a five-point advantage into halftime at the UA McKale Center in Tucson, the Apaches scored only two points in the third period and fell behind 40-37. What's more, senior forward Julian Grijalva picked up his fourth foul only three minutes into the second half after fellow big man Pedro Rodriguez was charged with four of his own in the first half.
But Grijalva and Rodriguez stayed in the game late to battle Cholla's 6-foot-6 and 6-foot-7 twin towers without fouling out, and guard Steven Legleu hit three clutch baskets to put Nogales back in front. A few defensive stops later, the Apaches walked off the court with a 51-47 win.
"I told them, 'We've got to go out strong, go as hard as we can, push the ball, be patient, and we're going to win this game.' And they did," said NHS coach Ricardo "Bambi" De la Riva, adding: "I'm very proud of them."
As their coach instructed, the Apaches came out of the gate hot, connecting on five three-pointers – including a bomb by Rodriguez to beat the first-quarter buzzer – to build a 10-point lead.
They were still up by nine when Grijalva picked up his third foul with 4:30 left in the first half and went to the bench. Javier Padilla came in to replace him and quickly drilled a jump shot. Then Rodriguez drew his third and fourth fouls in rapid succession and had to come out of the game as well.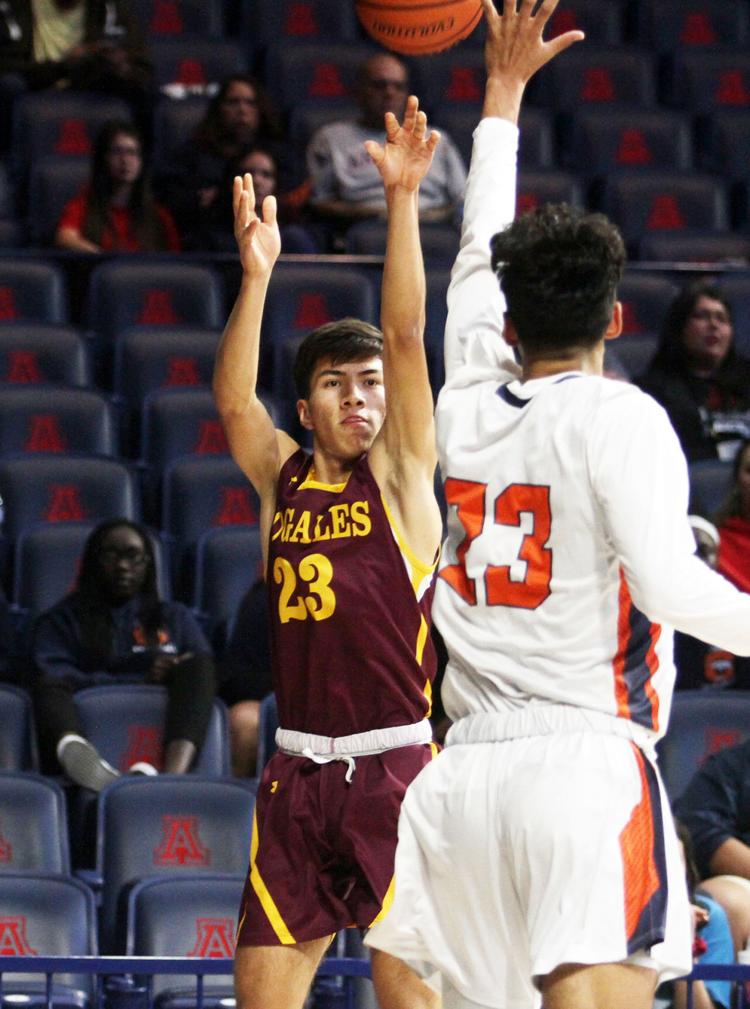 Cholla cut the lead to two, but a three-pointer by Edgardo Zubiate and a pair of free throws by Eduardo Herrera put NHS ahead 35-30 at the half.
Then came the dismal third quarter, in which Cholla outscored Nogales 10-2 to take the lead with Grijalva and Rodriguez both on the brink of fouling out.
With the game at stake, De La Riva decided to leave his big men on the court.
"I told Julian, 'If we're going to win this game, you've got to be in here, you've got to be in the game. Just be careful.' And the first thing he does is he goes out and gets a foul in the third quarter," the coach said. "So I said, 'You know what? I'm going to just gamble and hopefully he'll take care of himself.'"
For Grijalva, who ended up staying on the court until the final buzzer, the coach's gamble meant he had to play smart.
"Knowing that I had four fouls, I knew that I had to play careful. I have to be there for my team," he said.
Soon into the final frame, the momentum shifted back in Nogales' favor.
With a little more than six minutes left in the game, Legleu hit a three-pointer to put NHS up 42-41. The Apaches stole the ball back and Legleu scored on a drive to the basket. On the next NHS possession, Legleu hit another three-pointer to grow the advantage to 47-41 with 5:42 remaining.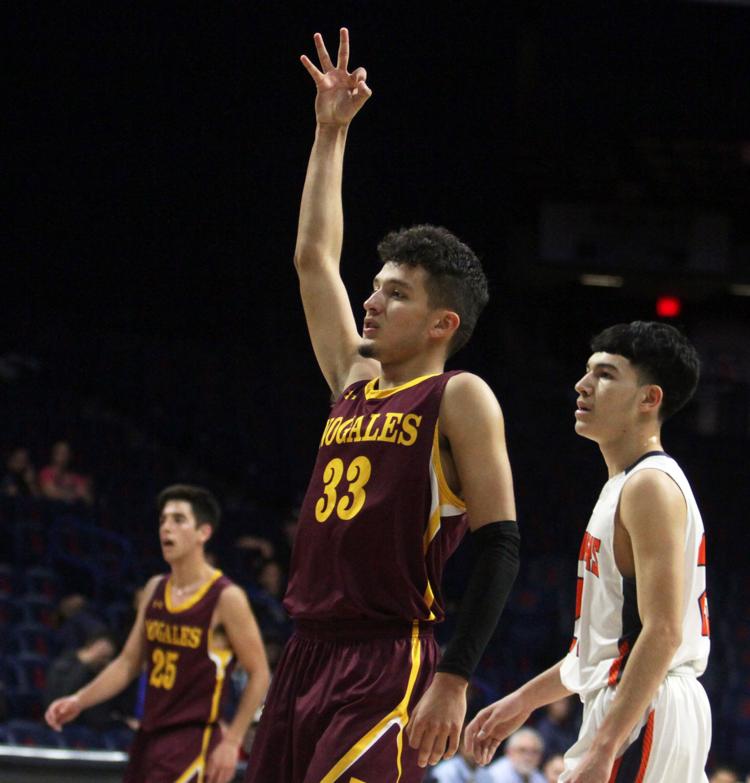 "Once I made the first three, I was like, 'I've got to start shooting more and start doing stuff for the team.' And then I got a layup, and then it was another three and I was just feeling amazing," Legleu said afterward.
"That was just that little boost we needed to just get everybody's energy up and to win the game."
After a timeout, Cholla went on a run to close the gap to 48-47. But Grijalva answered with a scoring drive to make it 50-47 with two minutes left.
The Apaches' defense stopped Cholla on a pair of attempts in the paint and then on a three-pointer, and Herrera made one of two free-throw attempts with 34 seconds left to seal the victory.
"Overall, we kept the ball, we kept the momentum, and we didn't let ourselves down," said Grijalva, who finished with 11 points and a team-high nine rebounds.
Legleu, who led the Apaches with 13 points, said it was "pretty amazing" to play a game at the McKale Center. "I came to see Arizona play and it's just an honor to play on the same court they play on," he said.
Zubiate added 11 points for Nogales and Rodriguez and Herrera each had seven.
Cholla entered the game with a 6-3 record and No. 9 ranking in the 5A Conference, while Nogales was No. 16 at 5-4. Oddly, even with the win, the Apaches dropped to No. 20 in Tuesday's updated rankings while Cholla fell to No. 17.
NHS headed to Sierra Vista on Tuesday to take on No. 6 Buena (9-2). They'll host Marana on Thursday at 7 p.m.