Coming off a rebuilding year in 2018, the Nogales High School volleyball team started its 2019 season on the right note Tuesday, defeating visiting intra-county rivals Rio Rico in straight sets, 25-15, 25-8 and 25-14.
The Apaches were hit by a double whammy last season, when they moved up a level to the 5A Conference after having lost a number of graduating seniors from a squad that went 16-3 and reached the state tournament for the first time since the 1970s. But while struggling to a 3-14 finish in 2018, they were able to give valuable court time to younger players who have returned in 2019 as seasoned veterans.
Now, the team is rebuilding "very nicely," said head coach Pat Valenzuela.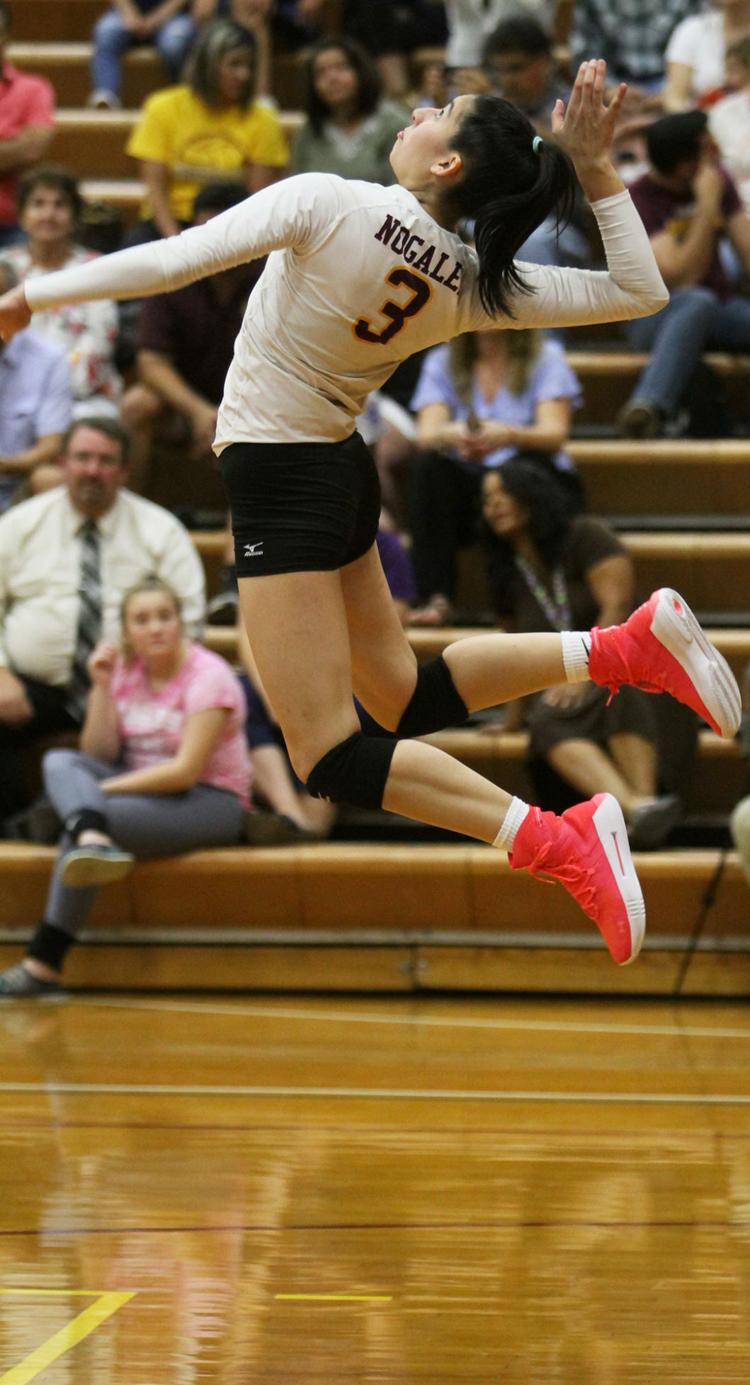 They're led by senior Karla Soto, who made the All-Southern Region Second Team in 2018 as a setter. On Tuesday against Rio Rico, she had 20 assists along with six kills and five serving aces.
"She's always been a setter coming in from the back," Valenzuela said of Soto's hitting ability, noting that NHS plays a 6-2 rotation, meaning that there are six hitters – two of whom are also setters – on the floor at all times. 
Sophomore Anni Galindo, who saw significant playing time last year as a freshman, also fits nicely into the rotation as a setter who can hit, Valenzuela said. Galindo had 20 assists of her own on Tuesday, as well as two kills and four aces.
"I've been letting her play in front and she can hit," Valenzuela said.
Also returning is junior Sabina Romero, an outside hitter who had six kills against Rio Rico. "She loves the game; a very energetic player out there on the court," said Valenzuela, who also cited returning senior Danae Perrott as a force in front of the net.
Two newcomer juniors also made solid contributions on Tuesday: Mea Colgate, who had three kills, nine digs and six returned serves, and Lynette Valenzuela, who had 10 points off serves to go with seven digs and four returned serves. Ariadna Anaya, a returning junior, added five assists and four digs.
"We're in 5A and the league's pretty tough, but we're very competitive," Valenzuela said. "We've got skill, we've got girls that are self-motivated and very sure of themselves. They know what they're doing, they're good on the court, they can move around, they talk to each other."
"I expect a good season," she said, "and hopefully we will have a good season."
Rio Rico also returns a large contingent of players as the Hawks seek to improve from a 2-15 season in 2018.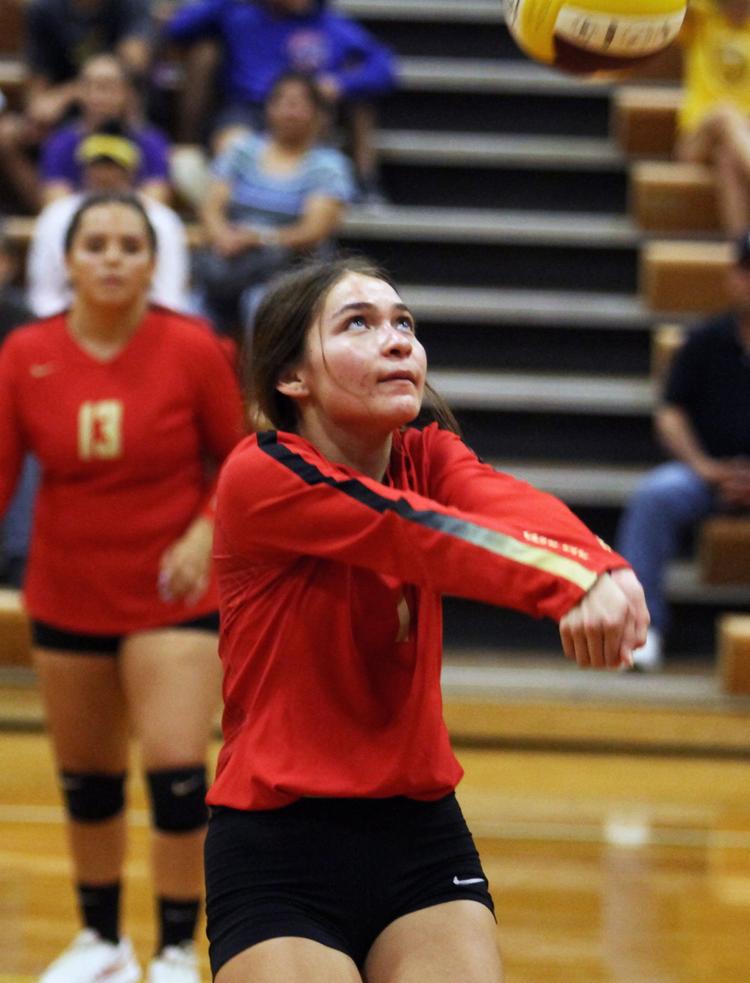 "I have six seniors this year, so I'm relying a lot on the seniors," said first-year head coach Josie Tanori, who singled out Bianca Cruz, who has played with the varsity since her freshman year, as "one of our best" players.
Angelica Vasquez and Jackie Beltran are two more seniors returning from last year's team, while Andrea Carrillo and Yamileth Barcelo, both of whom played with the varsity team as freshmen in 2018, are back as sophomores. Junior Valeria Ibarra has varsity experience as well.
"We need to improve our communication, that's a key. But we have really good back receivers and hitters," Tanori said. "We even have a freshman that's subbing in as a setter (Dior Velez), so all around we have good talent."
Tanori said the players are getting used to a new coaching staff, which also includes assistants Dora Meza and Haylee Cluff, "but they're hanging in there. I see their attitudes are good and they're focusing on the day-by-day work."
She was philosophical about Tuesday's loss, saying that "playing Nogales is always a mental game," and added that the Hawks are "very excited to start the season."
Both Nogales and Rio Rico are scheduled to play in the TUSD Girls Volleyball Tournament in Tucson on Friday.
The Apaches are set to play their next home match on Sept. 10 against Sunnyside, while the Hawks play at home on Thursday against Flowing Wells. Both matches start at 6 p.m.