"All my life I have been an athlete, and then I couldn't run anymore," said 61-year-old Ernesto Reyes, recounting how his knees slowly started giving out on him, forcing him to quit his top sport.
Once a standout Nogales High School track and field athlete, Reyes said he had to find a new way to maintain an active lifestyle without putting so much strain on his knees.
He focused for a while on boxing, and his training regimen for that sport led him to cycling.
Shortly after retiring from a career with U.S. Customs and Border Protection, Reyes joined about 15 other Nogales cyclists on the Titanes team and began traveling around the region to compete in races.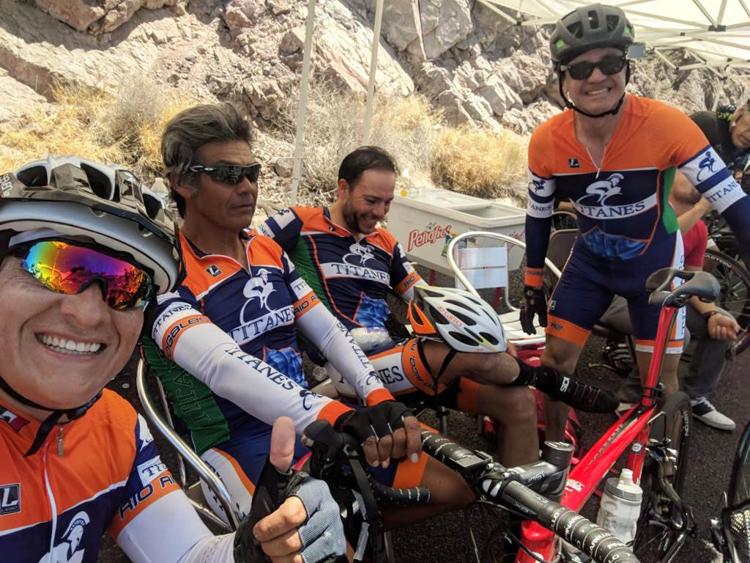 And while most team members struggle to find time for the competitions outside their work schedules, Reyes said, he and fellow retiree Amado Carrasco have the flexibility to represent the team at most regional competitions.
"Within the last four or five months we've competed in Tucson, Hermosillo, Guaymas and San Carlos," he said of races in the Arizona-Sonora area. "And we get the top three spots every time we go."
In September, Reyes and Carrasco took part in the Kitt Peak Time Trial west of Tucson, taking first and third place, respectively, in the Men Master 60-64 category.
The following month, Carrasco took second and Reyes took third place in Hermosillo's Carrera Clásica de Ciclismo – coming up just short of a Canadian competitor. The two teammates got their chance to turn the tables earlier this month at a race in Guaymas, Sonora, where Carrasco finished first, followed by Reyes in second and the Canadian cyclist in third.
"I beat him because he got tired, not because I'm better than him," Reyes recounted with a laugh.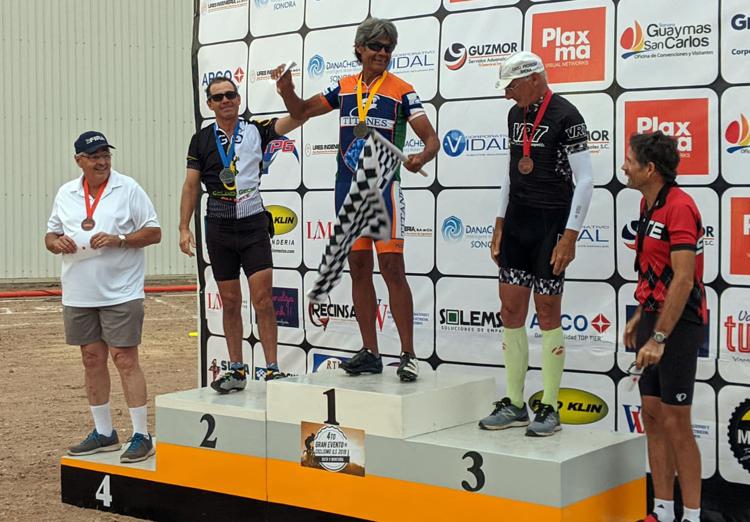 He clarified that his current abilities are still limited compared to those of younger cyclists, and he only competes in shorter-distance races that range from 10 miles to 35, including the annual Nogales Bicycle Classic.
"That's why you need to take advantage of your youth," he said.
In his younger days as a CBP officer, Reyes began participating in the World Police and Fire Games. The games, which features competitions among law enforcement and fire officials from around the world, led Reyes to find a passion for boxing.
But as his bad knees began impeding his ability to run for long periods of time, he said, he needed a new sport that would keep him fit enough to continue boxing at the games.
"I needed that stamina, that cardio to do the boxing, but I couldn't do the running," he said. "I had to resort to finding something else and the only thing I could think of was cycling."
Reyes participated in the World Police and Fire Games throughout his employment with CBP, competing in track and field, boxing and cycling. However, the demands of the job prevented him from participating in other cycling competitions – an obstacle that he's overcome in retirement.
And while he's had a lot of success as a competitive cyclist, he said the trophies and medals are not what bring him the most satisfaction.
"My biggest accomplishment in cycling is not so much the winning part of it, but the ability to do it year after year… just staying with it and learning to appreciate it is the most satisfying thing about my cycling," he said.
Now, with decades of sporting experience behind him, Reyes encourages local youth to continue building on the cycling culture that has been spreading within Santa Cruz County in recent years.
"There was no (cycling) culture," he said of the Nogales community while he was growing up. "Now it's huge and it's exciting! Even if you're not competing, if you just get on your bike and go along a path, it's just so exciting."
While not a member himself, Reyes gave a shout-out to the 0S3 Movement cycling group, noting that it has created opportunities for local younger generations to train and participate in statewide competitions.
"I want to show these young kids, to prove to them that they can do that for a prolonged period of time. It's healthy, you have the camaraderie, there's a lot of benefits to riding a bicycle," he said.