An annual rivalry game turned out to be a girls basketball classic on Tuesday, when the Rio Rico Hawks topped Nogales 60-58 in an overtime barnburner that featured standout performances by both teams' star players, boisterous fan sections, and last-minute heroics and heartbreak.
Senior guard Luisayde Chavez was the heroine for the Hawks, scoring twice on drives during the final seconds of OT, first to tie the game and then to give Rio Rico its margin of victory. She took control of the RRHS offense after halftime, scoring 17 of her team-high 23 points following the break and scoring six of her team's final eight points in regulation to help send the game into extra time.
"It was just something I needed to do," Chavez said of her clutch performance. "I've got to step up for the team. We're just two seniors so we're trying to step up for everyone else."
For Nogales, the story of the game was lost opportunities, especially at the free throw line. They missed nine of 13 chances from the charity stripe during the fourth quarter and overtime period, including a free throw with less than a second remaining in regulation that would have won the game.
"Both teams wanted to win just as bad and we made silly mistakes at the end – we couldn't make our free throws," said NHS coach Yahaira Sanchez. "And I've got to tip my hat to them (Rio Rico). They went to the line and they made them. Their energy was consistent and it was just a really beautiful game to see. I wish I could have been a spectator instead of a coach."
After taking a 9-6 lead on a Dani Ochoa three-pointer with 2:25 left in the first quarter, Nogales stayed in front for the rest of the first half.
But an eight-point Apaches advantage with 1:35 left in the second quarter dwindled to one at the break after Chavez hit a three-pointer, Yamileth Barcelo scored on a fast break and Chavez hit two free throws.
Rio Rico took the lead with the first basket of the second half – a three-pointer by April Martinez. But two free-throws and a layup by NHS senior forward Dominique Acosta put the Apaches back in front, 31-29.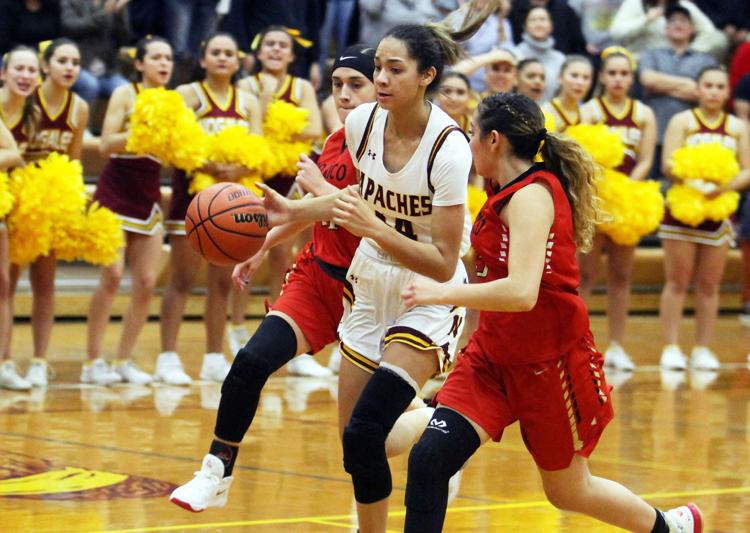 The tallest player on the court, Acosta was a dominant force inside throughout the game. She scored a game-high 28 points and grabbed 18 rebounds while consistently being double-teamed.
"She kept me in the game. We wouldn't have been in the game if it wasn't for her," Sanchez said, adding: "It's really hard to guard Luisa (Chavez), it's extremely hard. She's a hell of a player and she's insane. So is Dom, so they went at it back to back."
The lead changed hands two more times in the third quarter, and another two times at the start of the fourth. With Nogales ahead by two, Chavez fed Nicolette Pesqueira for a game-tying basket with 1:50 remaining.
Then, after two missed free throws by Nogales, Chavez dribbled the ball on the perimeter as the Nogales student section chanted "Overrated!" at the Hawks. She promptly drove the lane and scored to put RRHS ahead with a little over a minute remaining.
Rio Rico forward Alexis Mora (10 points) said her team's focus down the stretch was on remaining calm and executing on the court.
"We kept talking about screens, trying to roll down, trying to keep calm with the ball and maintain it," she said.
Was it hard to stay focused on the game plan?
"Yes, it was very hard," she said. "The fans, they were excited."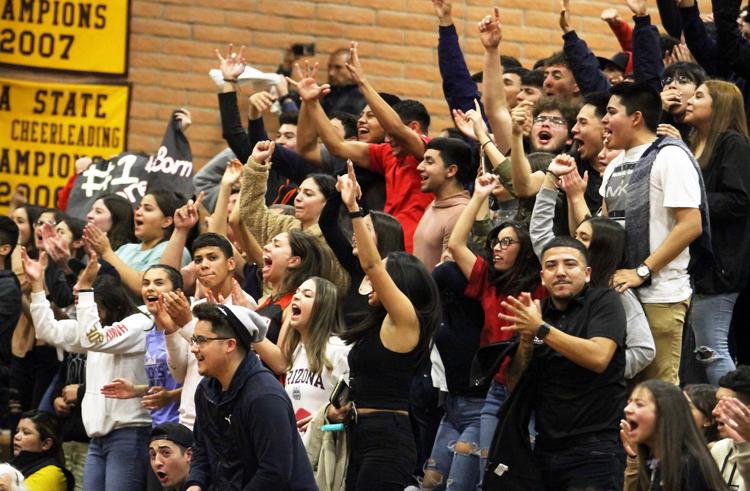 Nogales missed two more free throws on the ensuing possession, and a series of timeouts gave the schools' increasingly fervent cheering sections ample opportunity to chant back and forth. When Chavez was fouled with 18 seconds left and went to the line, Hawk fans regaled her with "MVP! MVP!" as the Apaches' supporters tried to disrupt her concentration.
Chavez hit both shots to put Rio Rico ahead 52-48.
"It was pretty tough," she said afterwards about playing under such stressful conditions. "It was a pretty good game. Nogi played great, it was a hard game, but we played as a team and we came out together."
It wasn't over yet, however.
Nogales rushed the ball up the court and Eden Harrison connected on a three-pointer, bringing the Apaches to within a point at 52-51 with six seconds left.
Harrison finished the game with 11 points – all in the second half – and three three-pointers.
Nogales immediately fouled Chavez. But she missed her first free throw, Acosta grabbed the rebound and was fouled with 0.66 seconds remaining.
Acosta calmly sank the first shot to tie the score, but missed the second and the game went into overtime.
With Rio Rico ahead by a point in OT, Nogales freshman Jessica Villarino was fouled while making a layup, then converted the free throw to put her team ahead 56-54 with 1:55 remaining.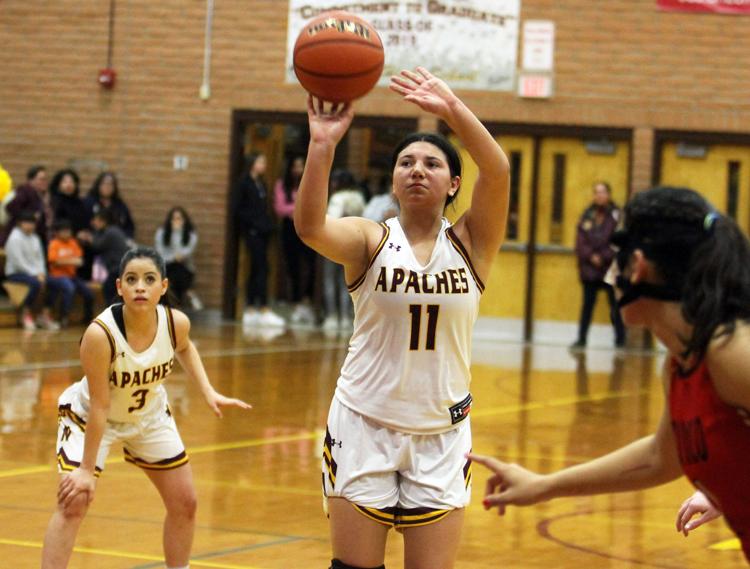 Martinez scored on a layup a minute later to tie it, only to see Nogales retake the lead when Alexa Colosio fed Acosta for an open layup.
But a scoring drive by Chavez with 20 seconds left, a charging call against Nogales and another driving bucket by Chavez with five seconds remaining gave Rio Rico a 60-58 lead.
Harrison got off a potentially game-winning three-pointer as time expired, but the long-range bomb banked off the backboard, hit the front of the rim and fell off, as the Hawks began to celebrate.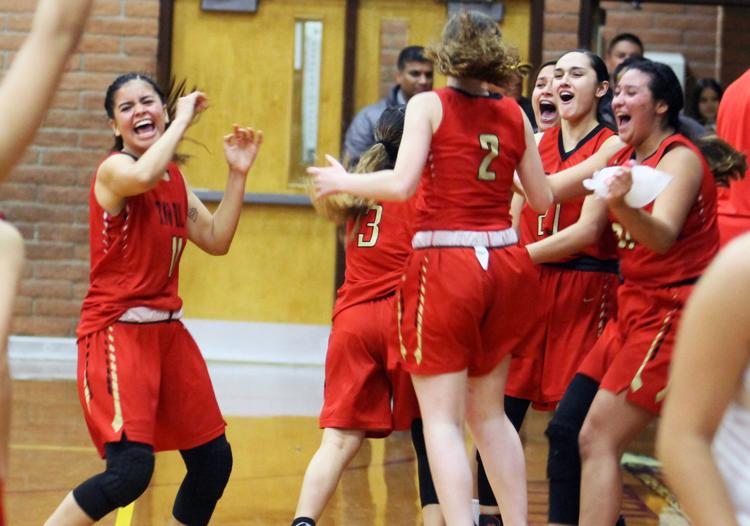 Clutching an ice pack to her head – the result of a physical play late in the game in which she fell to the floor and hit her head on the court – Mora was beaming after the win.
"I feel amazing, I forgot about my head injury," she said.
"We ran out of time," NHS coach Sanchez said after emerging from a post-game meeting with her players.
"I'm extremely proud of both teams, and overall with my girls I'm extremely proud. I can't ask for more than that, than playing as hard as they did," she said.
It was the first win of the regular season for Rio Rico (1-2), which is set to play a rare doubleheader at Casa Grande on Friday. Nogales fell to 2-3 and has one more home game scheduled before the Christmas break – Thursday, Dec. 19 against Cholla.