With 2:20 left in the first quarter of Tuesday night's girls basketball game with Douglas, Rio Rico point guard April Martinez took a pass on the left wing, her feet squarely behind the three-point line.
As a Douglas defender closed in, Martinez fired a left-handed shot over her opponent's outstretched arm and into the basket for the 999th, 1,000th and 1,001st points of her varsity career.
"It's amazing," she said afterward about reaching the milestone. "Not a lot of people get to have this opportunity, so I'm really grateful that it happened to me."
Following the historic hoop, which put Rio Rico up 15-4 on their way to a 52-30 win, the game was briefly halted as Martinez's teammates, coaches, family and friends joined her on the court to celebrate the occasion.
RRHS Associate Principal John Fanning told the crowd that Martinez had accomplished the feat in 72 games played since her freshman year, averaging 13.8 points per contest and shooting a sizzling 47 percent from beyond the arc as she connected for 224 three-pointers.
"It's not by accident that she's receiving this celebration tonight – it's through hard work," he said.
Martinez began her ascent to the 1,000-point plateau during her freshman year, when she scored 331 points. She added another 444 points during her sophomore season, when she averaged 15.9 per game and made 98 three-pointers – the most of any girls basketball player in the state.
She was a second-team All-Gila Region selection as a freshman and a first-team performer as a sophomore.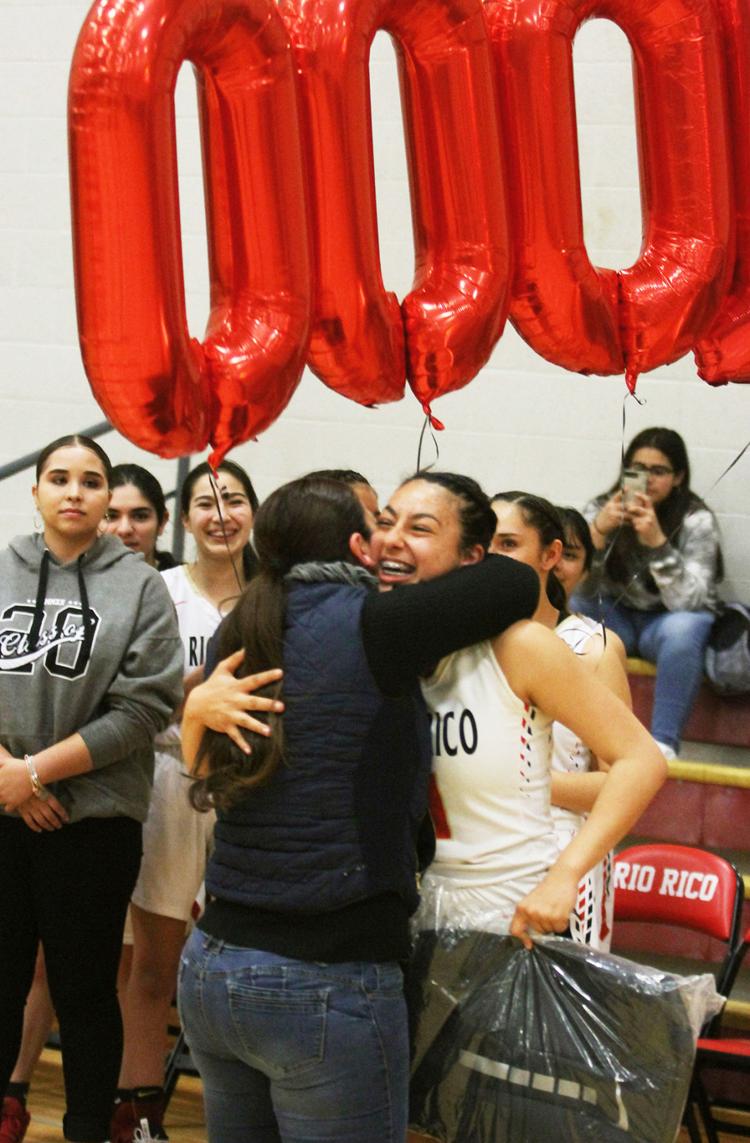 Also on Tuesday, RRHS paid tribute to one of Martinez's teammates, senior Luisayde Chavez, who scored the 1,000th point of her varsity career last season in a road game, and her 1,500th career point during a win earlier this month at Walden Grove.
Chavez transferred to Rio Rico at the start of her junior year from Jurupa Valley High School in Riverside County, Calif., where she scored a total of 756 points during her freshman and sophomore years, according to MaxPreps.com.
She passed the 1,000-point mark during her junior year at RRHS, a season in which she was selected the Offensive Player of the Year in the 4A Conference Gila Region after scoring 479 total points and averaging 17.1 per game.
So far this season, Chavez has scored 301 points (17.7 per game), giving her 780 career points for Rio Rico.
Martinez said she was happy to share the spotlight with Chavez on Tuesday.
"She's a really good teammate. I'm glad that I got to have this chance with her," she said.