Kenneth "Kenny" Lilley, a graduating senior at Rio Rico High School, has committed to attend Concordia University in Wisconsin and play for the Falcons football team.
Lilley, who will join the Falcons as an outside linebacker, received offers from institutions including Wagner College (N.Y.), Washington and Jefferson College (Penn.), Luther College (Iowa), Coe College (Iowa) and McPherson College (Kan.). He said he chose Concordia because associate head coach Jeff Walker, the team's recruiting coordinator, persisted in communicating with him and establishing a relationship.
"Coach Walker at Concordia really connected with me," Lilley said. "He kept texting me, asking how everything was going. He told me what's actually going to happen (at Concordia), what my chances are, how it's going to be on and off the field – academically. And even how it's going to be with the weather."
Concordia has a NCAA Division III athletics program and participates in the 14-team Northern Athletics Collegiate Conference. In 2018, the Falcons football team went 7-3 overall and 5-2 in conference play.
Lilley plans to pursue a degree in psychology with a minor in business at Concordia, a Lutheran institution based in Mequon, Wisc., just north of Milwaukee. Upon graduation, he said, he hopes to work in the field of psychology with the eventual goal of opening his own psychology clinic.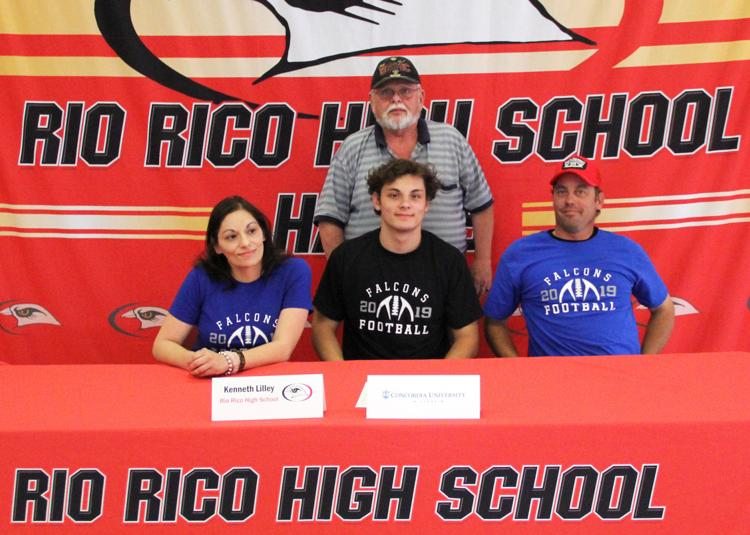 Lilley credits his parents' and grandfather's continuous support for his success.
"I've been playing since I was 7. They never missed one of my games."
Lilley, who was named to the all-4A Conference Gila Region second team last fall as a linebacker for the RRHS Hawks, also thanked Rio Rico football coach Zach Davila for his guidance and support.
"Kenny's a great student; he does well academically," said Jonathan Chavez, RRHS athletic director. "He does a really good job with committing to something and sticking with it all the way through to the end. He loves sports, and he loves his teammates. This is something that will translate well in college."
(News release submitted by Carol Cullen of the Santa Cruz Valley Unified School District.)