Rio Rico High School junior Roshan Tinoco-Miranda finished one second off the course record on Saturday as he easily won his race at the annual Rio Rico Rattler at RRHS.
Tinoco-Miranda finished the five-kilometer boys "red" race with a time of 16:19, nearly a full minute ahead of the second-place finisher from Marana High School and one tick behind the course record set in 2016 by Manuel Olivo of Buena High School. His time was 35 seconds better than last year, when he finished second at the Rattler, and more than 21 seconds faster than the time he posted while winning the 2018 Division III sectional race at RRHS.
Tinoco-Miranda said a big difference for him at this year's Rattler was "having mentally prepared a bit more."
"Being here on the course, working out, just giving it more than a physical effort, learning to manage myself throughout and keeping control of my emotions as well as my overall performance," he said.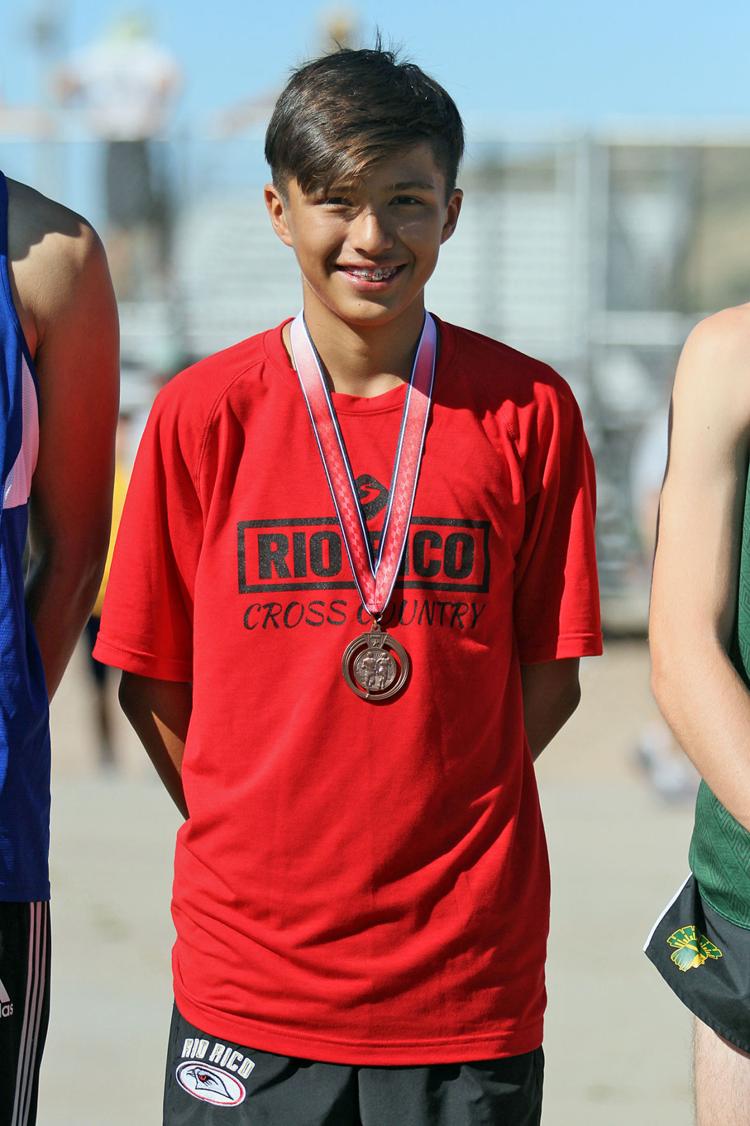 The next Hawk boys runner to cross the finish line was freshman Jorge Trujillo-Lira, who finished fifth with a time of 17:35. Emmanuel Arvizu, a RRHS sophomore, also cracked the top 25 and earned a medal in the process by finishing in 18:49, good for 23rd place.
Senior Hector Leon was 38th in the field of 77 with a time of 19:38, and sophomore Leonardo Padilla was 66th at 21:36. That gave the Hawk boys a third-place team finish among the 10 schools that fielded a full five-runner squad in the race.
Asked about the 2019 RRHS team, Tinoco-Miranda said there's a good mix of newcomers and returning runners.
"It really mixes well with having the veterans, so to speak, show the ropes to the newcomers and the newcomers showing us what they've got," he said. "It's been a great pleasure for the team and me to really get along with each other."
On the girls side, the Hawks are forging a new identity in 2019 as the team competes for the first time since 2012 without a Schadler sister leading the pack. Allie Schadler won four-consecutive cross country state titles for Rio Rico from 2013 to 2016, and her sister Samantha won the last two state crowns before graduating in the spring.
"Last year, we always had Sam on top and this year we all get to experience being on top," said sophomore Angela Holman, who came in 24th in the girls "gold" race on Saturday with a time of 23:19. "We've all been coming up and pushing each other, so I feel like it's been pretty good."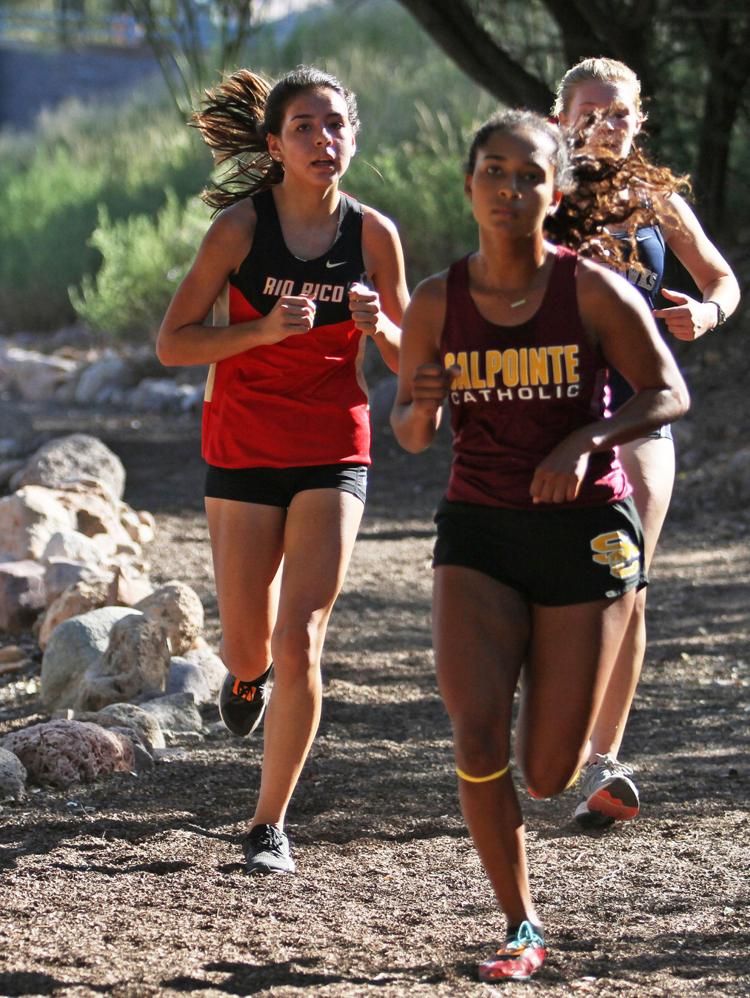 Sasha Ogburn, another returning sophomore, finished first among the RRHS runners and 20th overall in the field of 64 with a time of 22:46. She said the experience of running with the varsity team as a freshman is helping her and her teammates handle this year's challenges.
"Going from running one to two miles to running three miles was super scary and we didn't know how it was going to work out," she said. "But then once you get the hang of it, and now this year we're used to it, it's a bit easier knowing mentally you can do it because you did it before."
Zenya Nido, yet another sophomore who ran with the varsity in 2018, has been nursing a hip injury. Still, she finished 28th on Saturday with a time of 23:37.
"I feel like I did good for someone in my spot right now," she said. "The only problem is, I have to believe that I'll get better and I have to be mentally tougher while I'm injured."
Finishing fourth among the Hawk girls and 36th overall was junior Giselle Bojorquez, who ran the course in 24:32.
Without a fifth runner in the race, Rio Rico did not qualify for the team competition.
The Nogales High School girls team had the same problem in the girls "red" race at the Rattler. With only four runners completing the course, they didn't qualify for the team competition.
Individually, freshman Elizabeth Fuentes had a big day for the Apaches, coming in 18th out of 61 runners with a time of 24:08. Senior Carolina Durazo also cracked the top 25, finishing 24th at 24:41. Sophomore Sofia Durazo was 28th at 25:14 and senior Jacqueline Larson came in 30th with a time of 25:49.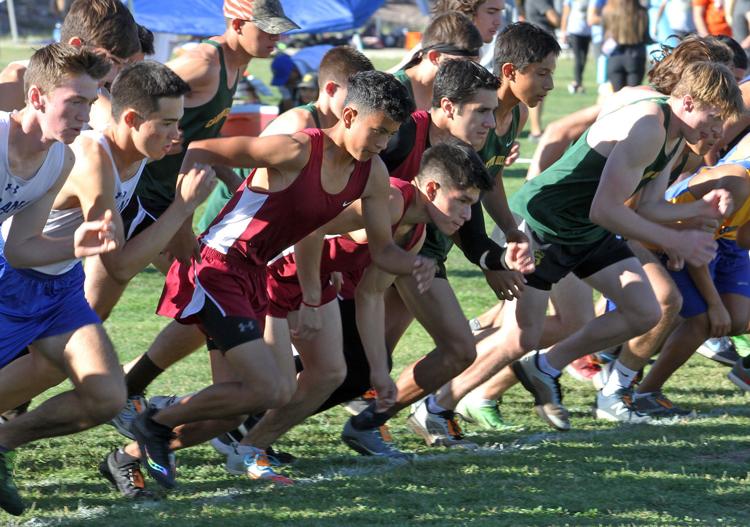 The Nogales boys had more than enough runners to qualify as a team, but couldn't post the times needed to be competitive in the "red" race.
Gibran Chavez led the way for NHS at 19:51 (42nd place), followed by Charles Page at 20:21 (52nd) and Daniel Corrales at 21:04 (62nd).
Gonzalo Gerardo was 65th at 21:35 and Ramses Vazquez rounded out the Nogales top five in 67th place with a time of 21:57.
The Rio Rico Rattler is now in its fourth year at RRHS and its 18th year overall, having previously been held at Marana High School where it was called the Rattler Invitational. It involves six races: boys and girls "red" and "gold" varsity competitions, as well as boys and girls "open" races for non-varsity runners.
RRHS will next host the sectional qualifiers for the state championship meet on Wednesday, Nov. 6, starting at 2 p.m.