The Rio Rico Hawks finished the 2019 football season on a high note, running for seven touchdowns on their way to a 48-13 win over the Douglas Bulldogs on Friday night at RRHS.
The Hawks started the game with their foot on the accelerator, scoring seven seconds into play on a 32-yard touchdown run by Robert Villegas. Gabriel Romero-Davis booted the extra point to make it 7-0.
On the ensuing kickoff, the Hawks recovered an onside kick at the Douglas 42. Two minutes later, Frank Gonzales scored on a 12-yard run and another extra point put Rio Rico up 14-0.
After nearly recovering another onside kick, the Hawks stopped Douglas on fourth-and-one and took over on downs at the Bulldogs' 48 yard-line. They didn't score on the ensuing possession, but they got the ball right back when Alex Castillo intercepted a pass at midfield and ran to the Douglas 24.
Manny DeLara carried the ball to the 15, setting up another rushing TD by Frank Gonzales with 3:12 left in the quarter. The extra point made the score 21-0.
Then, just as Douglas gained some momentum with a long pass completion, Chris Bustamante sacked Bulldog quarterback Marquez Rose for a 15-yard loss, capping off a dominant first quarter for the Hawks.
Rio Rico put seven more points on the board in the second quarter on a fourth-and-21 play with a little more than five minutes remaining. Ivan Rodriguez took the snap and ran the ball 31 yards into the end zone. Romero-Davis' fourth extra point brought the score to 28-0 at halftime.
Cristian Vega scored on a 12-yard run four minutes into the second half, then intercepted a pass at the goal line and took it back to the Douglas 44. A few plays later, he ran the ball in to give the Hawks a 41-0 lead.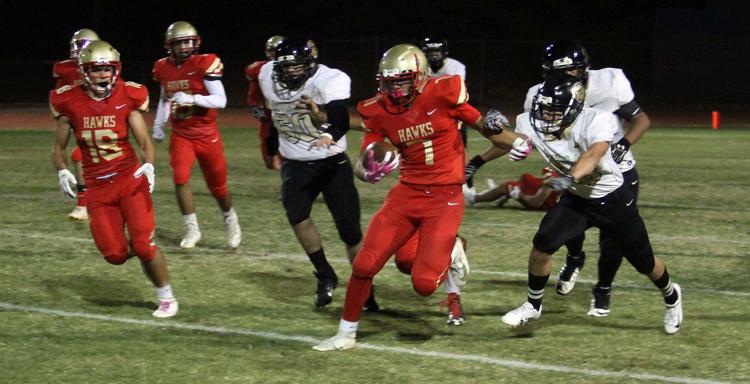 Douglas finally got on the board with an 18-yard touchdown pass from Rose to Christian Estrella with 10 minutes left in the game. But the Hawks' Villegas received the ensuing kickoff at his own 20-yard-line and ran all the way into the end zone, breaking several tackles along the way. The extra point was good and Rio Rico led 48-7.
Douglas threatened again on their next possession, but Cade Fanning intercepted a pass at the goal line and ran the ball out to the Rio Rico 27.
Several long runs by Rio Rico's Miguel Robles helped move the ball downfield and into the red zone. But Douglas mounted a goal line stand, then added another passing touchdown with 44 seconds remaining to wrap up the scoring.
With the win, the Hawks finished the campaign with a 4-6 overall record and 2-3 mark in the 4A Gila Region. That was a marked improvement from 2018, when they finished 1-9 and 0-5 in the region.