After winning the Division III boys cross country championship last year as a junior, Roshan Tinoco-Miranda of Rio Rico High School knew that all eyes would be on him at this year's state race.
But instead of trying to establish his dominance over the field right from the start of last Thursday's title race at Cross Roads Park in Gilbert, Tinoco-Miranda kept it in "cruise control" for the first two miles, following the plan he said he'd drawn up with his coach.
"I was really trying to focus in on trying to stick with other guys… not really trying to get away from them, knowing that they might be trying to stick with me or target what I was doing," he said.
Shortly after the 2-mile mark of the 3.1-mile race, Tinoco-Miranda saw the opportunity to break away from the lead pack of two or three runners on a downhill stretch.
"Once I hit that downhill, I felt like I could carry through with that momentum going down that hill and pushing all the way through that final mile," he said.
By the finish line, he'd opened up a substantial lead, winning the race by a 15-second margin with a time of 15:32.4 and taking home his second-consecutive individual state title.
While Tinoco-Miranda was the top runner for Rio Rico's team at last year's state meet, he only had one teammate, Emmanuel Arvizu, competing with him in this year's race. Arvizu finished 66th in the 150-runner field with a time of 18:30.8.
Without the full five-member team on hand for his final Arizona state championship, Tinoco-Miranda said, "I definitely wanted to represent what would be Rio Rico and the cross country program."
And not only did he win his second-straight state crown, he kept another impressive streak alive: This marked the eighth-consecutive year and 15th time overall that a runner from Rio Rico High School has won either a boys or girls individual state cross country championship.
The RRHS girls did manage to qualify as a team for the 2020 D-III championship, and they delivered a sixth-place finish in a field of 13 teams. That was an improvement over their 16th place finish in last year's field of 24.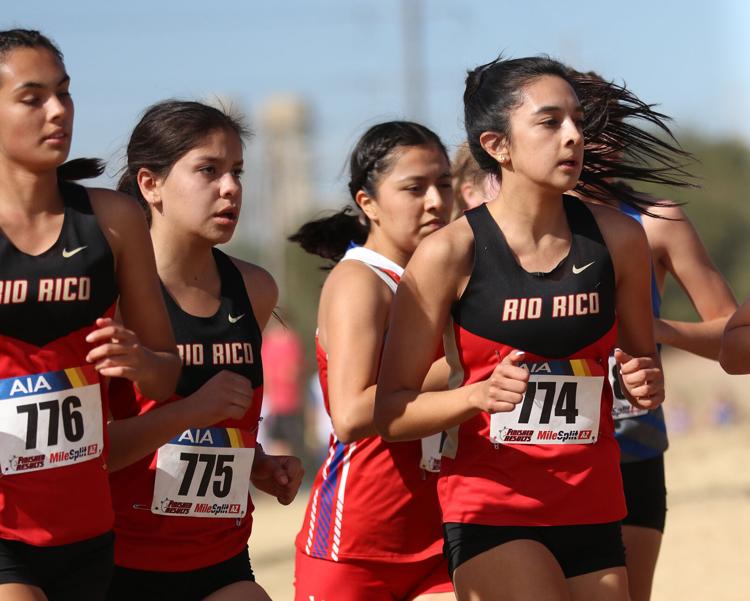 Coach Jolanne Palumbo said the Hawks had several strong returning runners and noted that the team's first finisher in the state championship was was Avrille Giron, an 11th-grader who joined the team this year.
"Avrille Giron was a really positive addition to our team," she said.
Giron was 22nd in the field of 114 runners with a time of 20:52.6. Gisell Bojorquez was the next Hawk across the finish line, coming in 31st with a time of 21:11.4. Next was Paulina Soto at No. 41 with a time of 21:26.4.
Bojorquez and Soto will graduate at the end of this year, and Palumbo said this year's seniors "left a really good path for the girls that are coming in."
Rounding out the RRHS runners on Saturday were Angela Holman (47th, 21:40.2), Johana Holman (87th, 23:14.1) and Sasha Ogburn (89th, 23:29.1).
"I'm proud of them for staying focused even though we're in the middle of a pandemic," Palumbo said of her athletes' efforts this season.
Right on the heels of his championship run in Gilbert, Tinoco-Miranda traveled to Indiana to represent Rio Rico at the XC Town USA Meet of Champions, competing against runners from across the country.
In that race, run on Nov. 15, he finished 26th in a field of 161 runners, with a time of 15:53.4. Palumbo noted that few of the other runners had competed in a state championship race just days before.
As for where he might take his running talents after graduating from Rio Rico High School this year, Tinoco-Miranda said he's in contact with several colleges, but hasn't made any decisions about his next step.