Roshan Tinoco-Miranda, a junior at Rio Rico High School, won the state Division III boys cross country state championship in Phoenix on Saturday with time to spare, crossing the finish line 16 seconds ahead of the second-place finisher.
"It's a feeling that's hard to describe right now but it's made up of pure bliss and gratefulness. I really enjoyed it," he said during a phone interview not long after winning the five-kilometer (3.1-mile) race with a time of 15.53.4.
Tinoco-Miranda was in second place after one mile at 5:03.3, three seconds back of the leader, and in a virtual three-way tie after two miles at 10:10.9.
"I knew that if anything, it was going to come down to those last 800 (meters) where someone was going to make a move or the leading pack would start to break and it did end up playing out that way," he said. "I was able to break away those last couple meters headed toward the finish line and really just focus on finishing strong."
He said he didn't realize he had won by such a significant margin until some friends and family told him afterward.
"He was extremely poised and tactically speaking, handled the whole race really, really well," RRHS boys coach Stephen Schadler said.
Tinoco-Miranda's state championship win comes on the heels of his first-place finish at the sectional qualifying race on Nov. 6 at RRHS. He also won the sectional as a sophomore in 2018, but stumbled late in last year's title race and dropped from third place to 30th. He cited that disappointment as motivation heading into the 2019 championship.
As a team on Saturday, the RRHS Hawks finished sixth among 32 schools competing in the D-III boys race.
Jorge Trujillo-Lira crossed the finish line in 25th place among the 228 individual runners with a time of 17.20.3, and Emmanuel Arvizu was 55th at 17.59.7.
They were followed by teammates Roberto Picazzo (75th, 18:16.9), Hector Leon (95th, 18:31.8), Leonardo Padilla (138th, 19.13.4) and Alexander Johnson (166th, 19.46.5).
"Everybody had their best race on the same day and that's what you want – and you want that at the state meet," Schadler said.
The Rio Rico girls team finished in 16th place among 24 squads competing in the girls D-III race, led by Sasha Ogburn in 34th with a time of 21:10.3.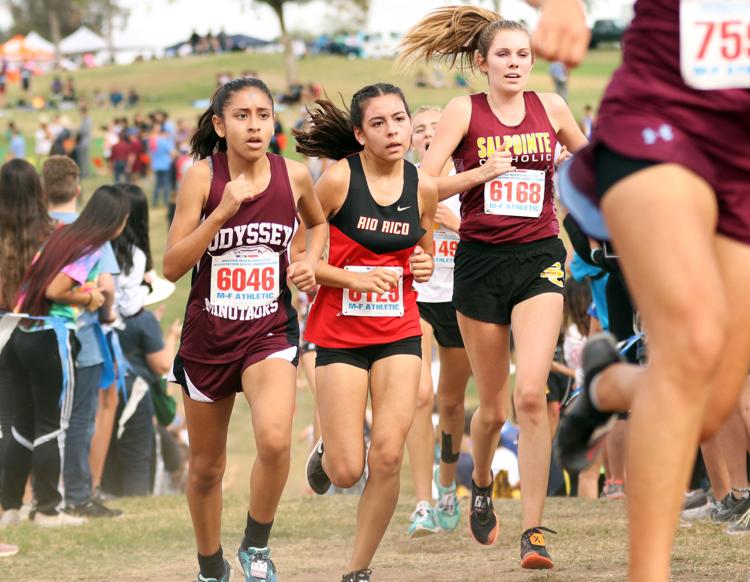 "She ran her best race of the season yet," Hawk girls coach Jolanne Palumbo said of Ogburn. "We've been working a lot on the mental aspect of what it is to be a cross country competitor. She's definitely been practicing flooding herself with positive thoughts and it showed today."
Angela Holman was next among the Rio Rico runners in the field of 178 competitors, finishing 89th at 22:39.1. Then came Gisell Bojorquez (95th, 22:44.5), Cynthia Villagran (106th, 23:13.9) and Paulina Soto 151st, 25:00.2).
"Our team captain Gisell Bojorquez ran really tough and all of the girls attacked the hills really, really well. They just looked strong. They were ready," said Palumbo, who added that her youthful team showed tremendous growth since last year.