Samantha Schadler of Rio Rico High School won her fourth-consecutive Division III state championship in the 800-meter race on Saturday in Mesa, capping off a remarkable two-day performance in which she also won individual state titles in the 1600- and 3200-meter races and anchored the RRHS 4x800 relay team to a comeback second-place finish.
"I was debating about running all three individual events – all four events as a whole," the Duke University-bound senior said. "I decided to, obviously, and I'm glad I did. I feel like every senior wants to go out with a bang and so I feel like I was able to to that."
Schadler finished the 800-meter race with a time of 2:17.52, improving once again in a competition she won in 2:19.77 as a junior, 2:22.68 as a sophomore and 2:21.17 as a freshman.
Asked which was her most memorable race of the 2019 state championship meet, she noted the 800, saying: "It's the fourth time I've won it so it's just close to my heart."
But she also cited the 4x800 relay, a race in which the Rio Rico Hawks team of Schadler, sophomore Giselle Bojorquez and freshmen Angela Holman and Sasha Ogburn entered as the No. 12 seed based on a time they had posted early in season.
RRHS track coach Stephen Schadler, Samantha's father, said a more realistic goal given the team's improvement was fourth place, with the possibility of doing even better if things went their way. "I said, 'We are much better than that now, you guys have to believe,'" he said.
Samantha Schadler was the team's anchor, running the final leg of the relay, and she took the baton with the Hawks in seventh place. Running her segment in 2:11, she passed five of the six girls ahead of her to seal the silver.
"We came darned close to stealing it, but it was really a thrilling, thrilling race," Coach Schadler said. "It was definitely a highlight of the meet, I think for us, and quite frankly, I think it was a highlight of the meet for a lot of the fans, too."
Samantha Schadler said the race was especially meaningful for her because the Hawks were unable to field a relay team last year.
"This year we had a very young team and we did pretty well and I think we were all pretty excited with our performance," she said. "It makes me happy that we were able to accomplish that."
Schadler's win in the 3200-meter race was her second state title in the event – she also won it as a sophomore. And she did it in 10:46.34, the first time she broke the 11-minute mark in the approximately two-mile race.
Her state crown in the 1600 meters was the first of her career and came amid mid-90s heat on Saturday afternoon. The sun and heat of the Phoenix metro area definitely saps your energy, she said, but at least there wasn't excessive wind like in years past.
Schadler's prowess on the track comes in addition to her dominance in cross-country during the fall athletic season. Last November she won her second-consecutive Division III state championship.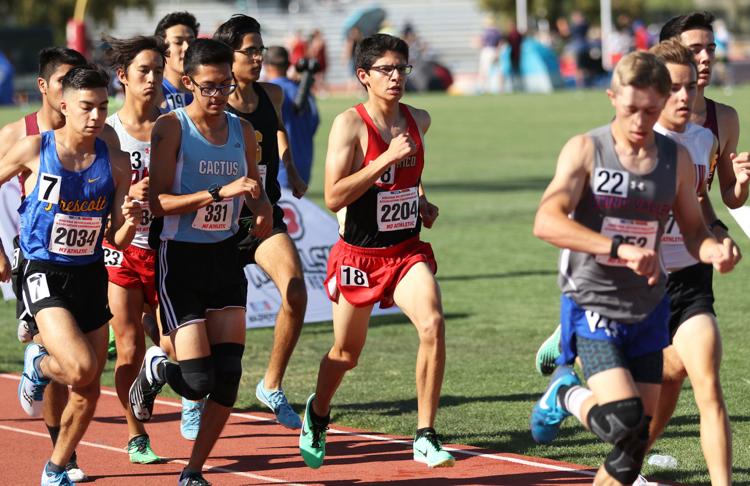 Rio Rico sophomore Roshan Tinoco-Miranda turned in a pair of outstanding performances for the Hawks boys team during the Division III state championships Friday and Saturday at Mesa Community College.
On Friday, Tinoco-Miranda finished 11th in the 1600-meter run with a time of 4:38.37 – a personal record (PR). Then on Saturday, he was ninth in the 3200-meter competition at 9:57.53 – another personal record and the first time he had broken the 10-minute mark.
"That was definitely another highlight for us," Coach Schadler said.
Senior Brandon Moreno joined Tinoco-Miranda in the 3200 and finished 14th. "He ran hard – he went for it," his coach said.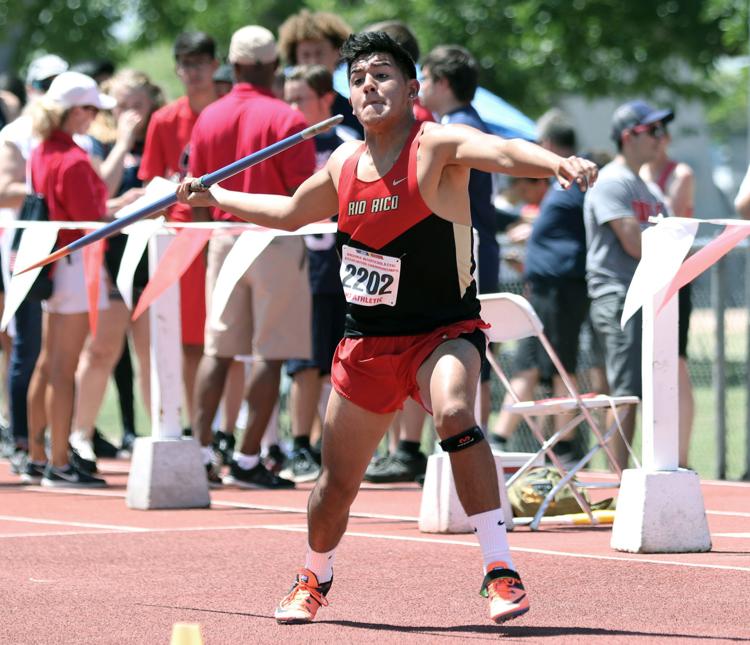 In a field event, Hawk senior Sergio Romero threw the javelin 145 feet, four inches, to finish 11th in D-III. It was the longest throw of his career.
"He improved at the end, which is always the goal," Coach Schadler said.
The RRHS girls 4x100 relay team, comprised of Alana Lamadrid, Cynthia Villagran, Bianca Cruz and Sylvia Brenner, finished 12th in the preliminaries with a time of 53.14, just missing the final race, and Villagran competed in the girls long jump and finished 17th.
Overall, Coach Schadler said, he was very proud of his team for finishing strong at the state meet.
"They did what we always try to do, which is to finish with their best performance of the season," he said. "Of all the events we ran, I think everybody except for two either won a medal or got a PR. There's not much more that you can do so I'm just really proud of the team, it was great."