"Early on in my high school career, I was told a lot about how your junior year going to your senior year was a really pivotal time where colleges would start looking at runners," said Roshan Tinoco-Miranda, now a senior at Rio Rico High School.
But after winning the boys state Division III cross country championship last November with a time of 15:53, nearly 16 seconds ahead of his nearest competitor, Tinoco-Miranda saw his junior spring track season cancelled due to the coronavirus epidemic. Now he's waiting and training in hopes that the virus will abate enough to allow his senior cross country season to go forward, giving him a chance to defend his state crown and impress college coaches enough to offer him a scholarship.
"It's definitely not something I would have expected coming into my senior year, definitely not something that I thought my senior year would look like," he said of the 2020-21 academic year so far, which has consisted of taking online classes from home, running on his own on the roads around Rio Rico and meeting up occasionally online with his team.
Now, with the COVID-19 pandemic showing signs of abating in Santa Cruz County and other parts of the state, it's possible that the Hawks boys squad, which finished sixth in a field of 32 at the state D-III meet last year with an underclassman-heavy roster, could soon be practicing again as a unit in preparation for a competitive season.
For cross country, Monday was the first day that teams could resume practice, with the start of competitions set for Sept. 9 and the state meet on Nov. 12 and 13. Golf teams were allowed to begin practice on Aug. 17, volleyball on Aug. 31 and football on Sept. 7.
Still, the ultimate decisions on when or whether to offer fall sports will be made by the schools and districts themselves.
As of last Friday, no organized sports had been cleared to resume at Rio Rico High School as school officials waited to review local COVID-19 data and benchmarks. A leadership team was set to meet Monday to discuss possible scenarios based on the data, according to Shannon Enciso, spokeswoman for the Santa Cruz Valley Unified School District. An announcement will then be made at the SCVUSD school board meeting on Tuesday evening, she said.
Even if cross country were allowed to resume at RRHS, it's uncertain what the season would look like. Some schools have already cancelled their fall sports seasons, including D-III cross country powerhouses Page and Chinle, reducing the pool of potential competitors. And while the state championships are still on the calendar, the Hawks currently have only one regular-season meet posted to their AIA schedule: a Sept. 30 home event with Thatcher and Mica Mountain.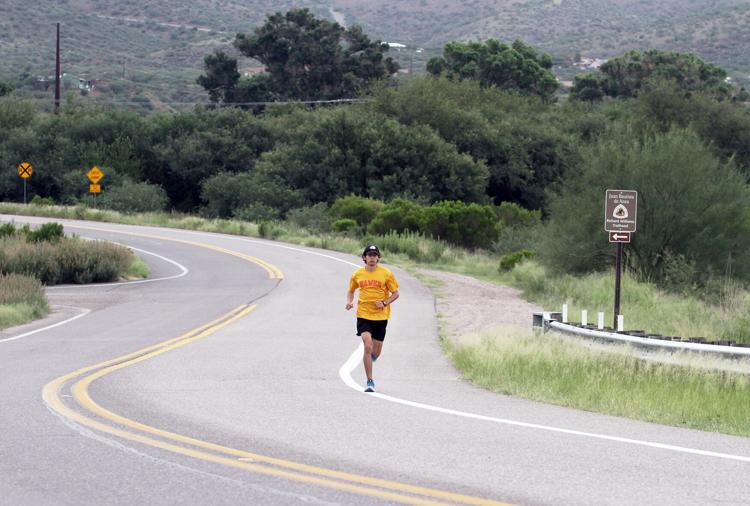 Still, any competition would allow Tinoco-Miranda the chance to make another impression on college coaches and achieve his goal of becoming the next state champ from RRHS to compete at the NCAA level – a list whose recent members include Carlos Villarreal (RRHS Class of 2015, University of Arizona), Allie Schadler (Class of 2017, University of Washington) and Samantha Schadler (Class of 2019, Duke University). Despite his success so far, Tinoco-Miranda hasn't yet been heavily recruited.
"I was probably expecting to have a bit more communication with colleges at this point in my career," he said, noting that the cancellation of last spring's high school track season, as well as the pandemic's direct impact on college programs and their recruiting efforts, has likely played a role.
"That's really put not just me, but a lot of other runners in a spot where there's not as much communication as we'd like," he said.
Tinoco-Miranda said he's been doing his part to stay in contact with the schools that expressed interest prior to the coronavirus, including Idaho State and Loyola Marymount University in California. But he'd really like to impress the in-state schools, especially Northern Arizona University, home to one of the nation's top distance-running programs.
"When I look at that school, it's something that I'd like to really be a part of," he said of NAU.
Jolanne Palumbo, head cross country coach at RRHS, noted the way the pandemic had impacted Tinoco-Miranda's progression toward the collegiate level.
"Roshan doesn't need another season to 'get ready' as much as he needs another season to showcase what he is really capable of," she wrote in an email, adding: "I just don't think his trajectory has been as steady as a traditional year would have afforded." 
Palumbo also gave her star senior high marks for his character and work ethic.
"Roshan is fun to coach because I know he's all in and never makes excuses," she wrote, adding: "When I say never, I mean never."
She described him as "an intuitive runner that genuinely loves running," calling that combination a "perfect recipe for success."
"He is humble yet chases success and victories because he knows he's put in the work. I don't think there are many kids like him," she said.
With the sun just coming up last Saturday morning, Tinoco-Miranda was at the Palo Parado bridge in Rio Rico, wearing a Hawks T-shirt and cap and limbering up for a 65-minute, nine-mile run through the northern reaches of his home community. He likes running in the mornings because the temperatures are better, and also because during the week it allows him to devote the rest of the day to his schoolwork, he said.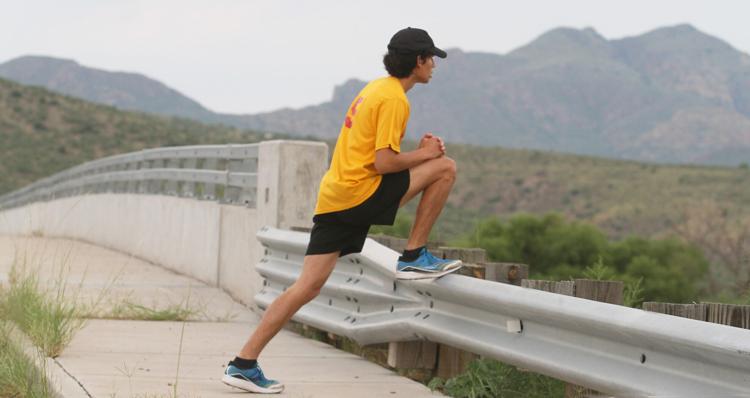 For now, he runs alone, rather than with any teammates.
"We've been making sure to try to be as safe as possible when it comes to training, and that for us means that it's best for us to train on our own instead of meeting up as a team," he said during a phone interview last Friday.
Still, the Hawks have used online meeting platforms to stay connected.
"We'll usually try to meet up at least once a week and we'll always make sure to talk about workouts and what's to come for the next week, and any possibilities of competitions returning," Tinoco-Miranda said.
The Rio Rico runners also make sure to keep the online meet-ups "fun and engaging," he said, since the camaraderie of being part of a team is something "that we look forward to the most, other than training with teammates."
Tinoco-Miranda was fully aware of the big decisions pending this week regarding the cross country season, and hopeful that he and the team would have a chance to prove themselves again.
"It would definitely be disappointing if we didn't have the opportunity to do that, because that means we wouldn't be able to show all the work we've been putting in," he said.