Three young student-athletes from Ambos Nogales recently traveled to New York City to participate in the national Arthur Ashe Kids Day celebration as part of the lead-up to the U.S. Open professional tennis tournament.
Marilu Portillo, 13, and Pamela Carbajal, 11, both of Nogales, Ariz., and Tyrone Alberto Cortez Lecona, 13, of Nogales, Sonora, made the trip as part of the Border Youth Tennis Exchange (BYTE), an after-school youth development program that offers free tennis and academic instruction to children at sites on both sides of the border.
In addition to attending the kids day celebration – which included being invited guests at the United States Tennis Association's (USTA) Presidential Suite during an associated concert – the Nogalians enjoyed a number of New York City experiences with their parents and BYTE chaperones. That included riding a ferry around the Statue of Liberty, visiting the 9/11 Memorial, seeing the Blue Man Group off-Broadway show, and walking and riding bikes in Central Park.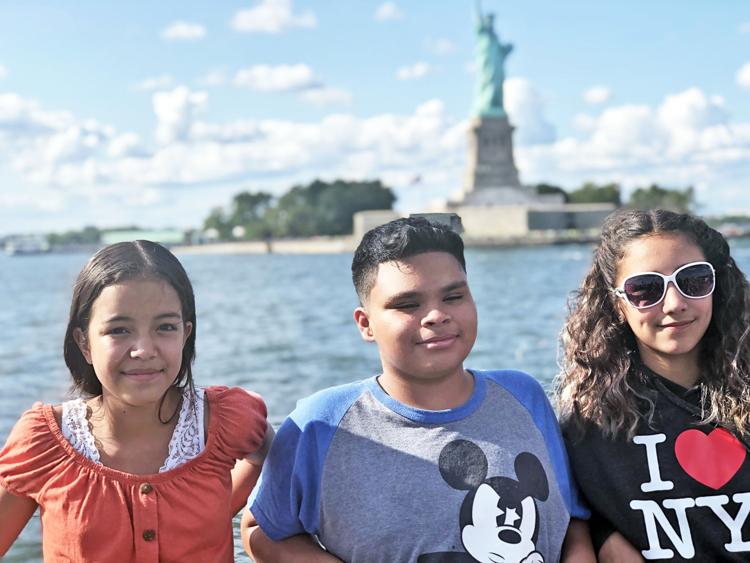 Each student-athlete earned a spot on the trip by being selected MVP of their respective BYTE cohort, which meant showing consistency and dedication to the program, leadership in their teams and activities, and demonstrated strong values and connection to the BYTE message of positive cross-border friendship and collaboration, said Charlie Cutler, BYTE founder and executive director.
Portillo was the MVP of the Boys and Girls Club of Santa Cruz County cohort, Cortez was selected from the Centro Juvenil Don Bosco cohort, and Carbajal represented the Anza Park cohort, which is BYTE's newest cohort, started in partnership with the Nogales Parks and Recreation Department and a $20,000 grant from the USTA Foundation.
A fourth girl from BYTE's Casa Hogar para Niñas, la Madre Conchita cohort in Sonora was also selected MVP, but as a minor and a full-time resident of an orphanage, the organizers were unable to secure the proper documents to bring her along, Cutler said.