A hush fell over the room as the honor guard posted the colors and Sonora Cubillas-Schmitt's glorious rendition of the national anthem soared to the highest reaches of the Elgin Elementary School gymnasium.
In her opening remarks at the Nov. 8 commemoration of Veterans Day, Mary Faley, superintendent and principal of the Sonoita Elementary School District, reminded the crowd that this was the 23rd anniversary of the annual celebration that the community eagerly looks forward to each year.
The program kicked off with the all-school choir's renditions of "It's a Grand Old Flag," "This Land is Your Land," and "America the Beautiful," followed by seventh-grader Sebastian Padilla singing "Amazing Grace."
Charles Hancock, president of the Southwest Association of Buffalo Soldiers, enthralled the audience with the history of the all African-American U.S. Army cavalry regiments that fought in the Indian Wars in the Southwest and were stationed at Fort Huachuca in Sierra Vista starting in the 1950s. Buffalo Soldiers were also stationed at Camp Little in Nogales to help guard the U.S. border during the Mexican Revolution.
Hancock was accompanied by B.J. Holloway, Sr., Harlon Bradford, Sr. and Barbara Blankenship, who portrayed a pioneer woman. Their large display of equipment and gear was one of the highlights of the morning's event.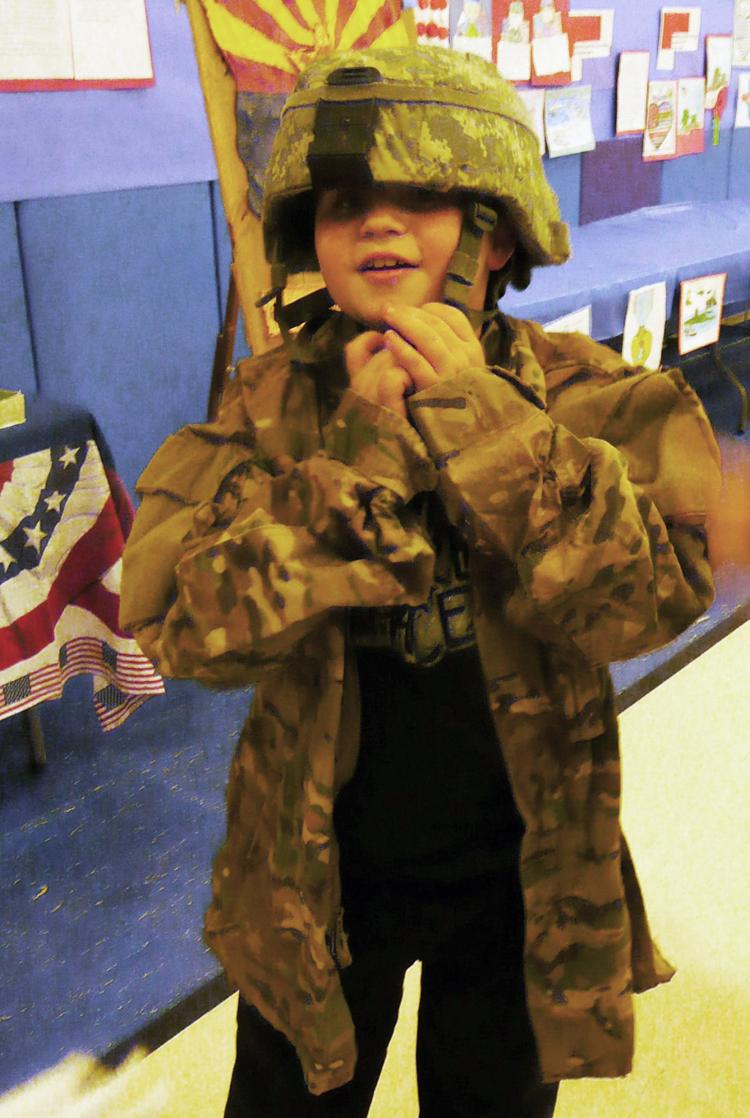 Other presentations included readings by essay contest winners Francisco Baez of the sixth grade and Liam Morgan of the eighth grade.
Baez recalled that the Sept. 11, 2001 terrorist attacks inspired his father to join the Army and, although he missed his dad when he was on a tour of duty, he is proud to be the son of a serviceman. Morgan's essay focused on the diversity of the nation's citizens and landscape, and concluded that the United States offers everyone the freedom to achieve their dreams.
Awards were also presented to first-grader Lincoln Beal and fourth-grader Hurley Hennington.
Norman Heredia read the Patriots Pen essay – a program for youth sponsored by the Veterans of Foreign Wars – and veterans of all branches of the military were asked to stand when their song was played.
Pastor Steve Lindsey of the Canelo Cowboy Church recited an imaginative verse based on a dream he reportedly had as a 19-year old aspiring cowboy out on a roundup. In the dream, he is visited by his grandfather dressed in military attire, who tells him about his love for America. His imaginary grandfather died a hero on Normandy Beach during World War II.
In the respectful silence that followed, the sound of Antonio Vincente Padilla playing "Taps" on his trumpet echoed through the room, followed by the honor guard, who retired the colors.