Holly Shaffer has owned the Royal Star Equestrian Center in Tucson for many years, and when she recognized the pressing need for an equine retirement venue, she started looking for room to expand.
After years of searching for just the right spot, she happened upon a property for sale in Sonoita, and she knew in her heart it was meant to be.
In April, 2018, she bought the ranch and named it Doc Bar, in honor of the legendary racehorse whose lineage she is now helping to keep alive.
Shaffer had spent many weekends at the home, built in 1961 by Art and Harriette Pollard. Their daughter Daisy has been a friend of Shaffer's since the mid-1980s when they were students at the University of Arizona and bonded over their shared love of equine activities.
On the many occasions when Shaffer came to visit Sonoita, the two girls spent hours riding their horses over miles of rolling grasslands.
"Daisy and I have been friends ever since," she said.
Daisy Pollard visited Shaffer and her husband David recently and reminisced about her days growing up in Sonoita. Remarking on how built up the area has become, she said: "It was wide open here. You could ride all over and gallop down these long draws and it was so much fun. The only house you could see was back where George Yakobian's Los Encinos Country Club was, and that was pretty far away."
Shaffer's passion is to continue the legacy left by Pollard and his well-known racehorse and stallion, Lightning Bar, with a particular focus on Lightning Bar's son, Doc Bar.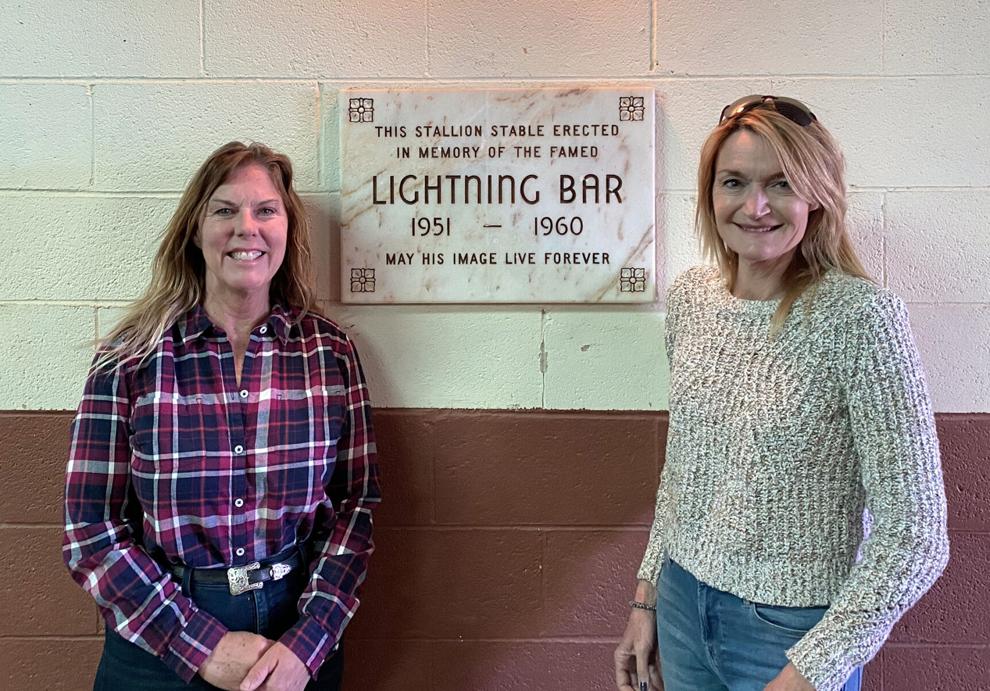 She works closely with Mike Hogan and Lyle Stephens, who own the former Sonoita Stallion Manor, now known as HS Lightning Bar Ranch, on a nearby parcel which was also part of Art Pollard's original property. Hogan and Stephens specialize in breeding horses from both these lines.
Lightning Bar had a promising record in quarter horse racing, but was injured on the track in his prime, so Pollard put him out to stud.
Out of his get, he was leading the nation percentage-wise for AAA stakes mares. Unfortunately, Pollard's breeding program was decimated by Colitis-X in 1960.
Lightning Bar, only 9 years old at the time, went down at the Sonoita Fairgrounds where he had been sequestered for safekeeping. Pollard told the vet to bury him where he fell, to help keep the virus from spreading. His unmarked grave is just outside the first stall at the Sonoita Fairgrounds.
Over the next year and a half, Pollard lost his entire brood mare band to the dreaded disease, a disaster that took the heart out of his breeding program. He ended up selling the Sonoita Stallion Manor, but kept the main house and several hundred acres, which he ran as a brood mare operation.
All five of Shaffer's mares are from the Doc Bar and Lightning Bar line, and have dropped foals in the past few weeks.
"We also have two Lightning Bar yearlings that we bought from Hogan and Stephens, and we hope to breed them someday too," she said.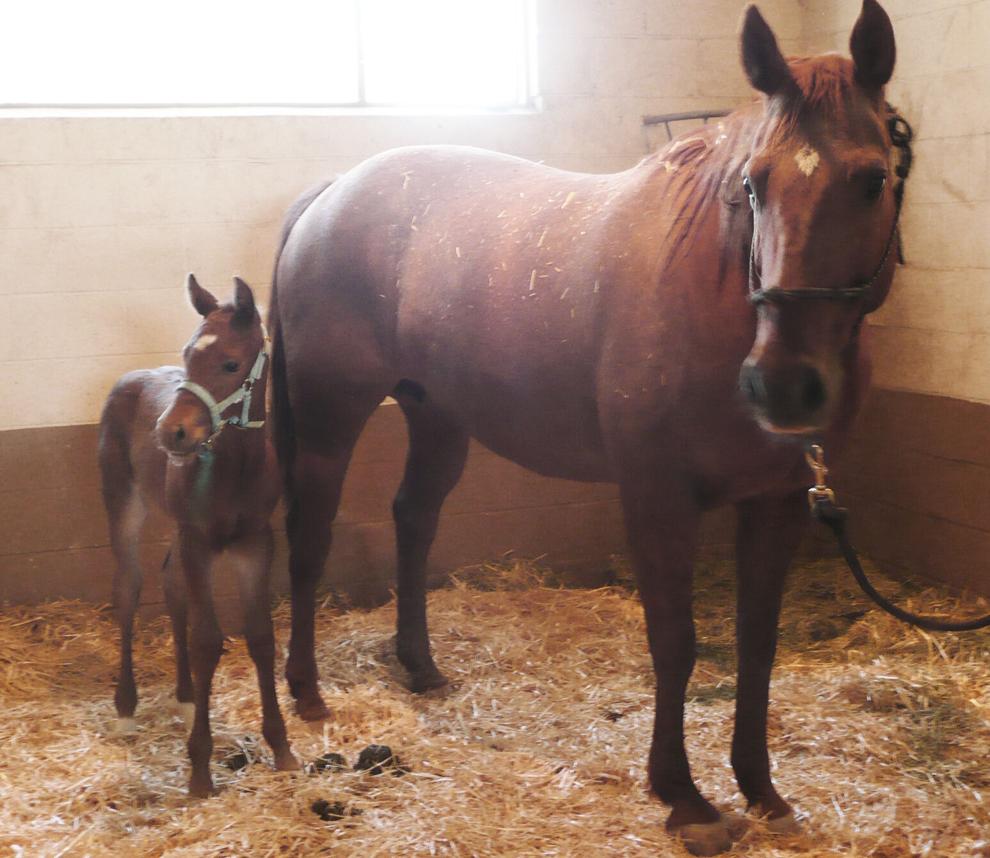 Describing the routine when the mares get close to foaling, Shaffer compared herself to a "helicopter mom."
"Every two hours since Feb. 1, I checked the mares. If I think it looks like it might be close, I just stay and watch her. There's a lot to be said for that because they're tricky. I go out for the night check and they are watching me, and I think, 'I know that look,' and I'll just sneak around the corner and in about 10 minutes they're having the baby," she said.
When Daisy Pollard got her first look inside the house in many years, she was delighted to discover that it has remained basically unchanged.
Designed by Tom Gist, a disciple of legendary architect Frank Lloyd Wright, the spacious home commands spectacular views from all the upstairs windows.
One of most interesting things in the home is an 1860s jockey scale signed by Young's of England, one of only three known to still be in existence today. The leather seat for the jockey is attached to a beautifully hand-carved oak table and all the fittings and weights are brass. Shaffer first saw the scale and was fascinated by it during her visits during the 1980s. She said she feels honored to now have it in her home.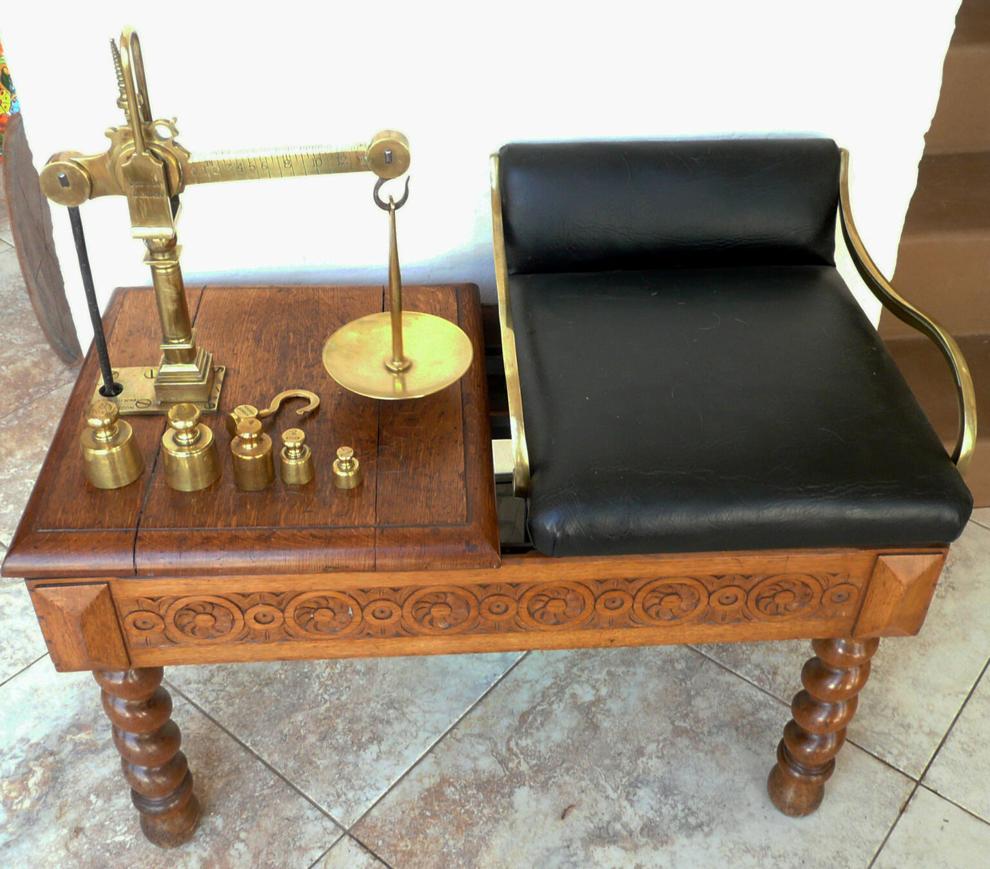 At the conclusion of her visit, Daisy took a moment to reflect on all the changes in Sonoita and all the things that have remained the same.
"I think what Holly is doing at the Doc Bar Ranch and what Lyle and Mike are accomplishing at the HS Lightning Bar to keep my dad's legacy and the quarter horse lineage alive is truly amazing," she said. "I am really touched by it because I think in this society we tend to lose track of history. What they are doing is a touching tribute and it's cool."