A memorial honoring two federal officers killed in a shootout south of Sonoita was dedicated this week, more than 45 years after their deaths.
The memorial for Louis Davis "Bud" Dixon and Charles "Bo" Bokinskie, patrol officers with the U.S. Customs Service, came after years of planning by their former colleagues.
Jerry Padalino, a supervisor when the two were killed on April 24, 1974 after they attempted to stop a drug-smuggling attempt, remembers both men fondly, U.S. Customs and Border Protection said in a news release. Paladino, now retired, "said their beliefs in upholding the law of the land, even to death, was no surprise to other officers who worked with them at the time."
"Sitting in a room at Tucson Sector Headquarters 45 years later, Padalino and five other retired officers reflected fondly on the fallen officers' dedication to duty," CBP said. "Expressing some disbelief, yet filled with gratitude, the officers were pleased their efforts for a memorial would now be realized."
Bokinskie was 26 and engaged to be married at the time of his death. Dixon was 32 and left behind a wife and three small children.
The two were honored with funeral services in 1974, but their fellow officers wanted a physical memorial at the spot where the two died to remember and reflect on their service, CBP said.
Land use restrictions prevented the actual location from being marked. But after hearing the group's story, Sabri Dikman, the U.S. Border Patrol's agent in charge at the Nogales Station, offered a solution: a memorial plaque placed on Border Patrol equipment near the site.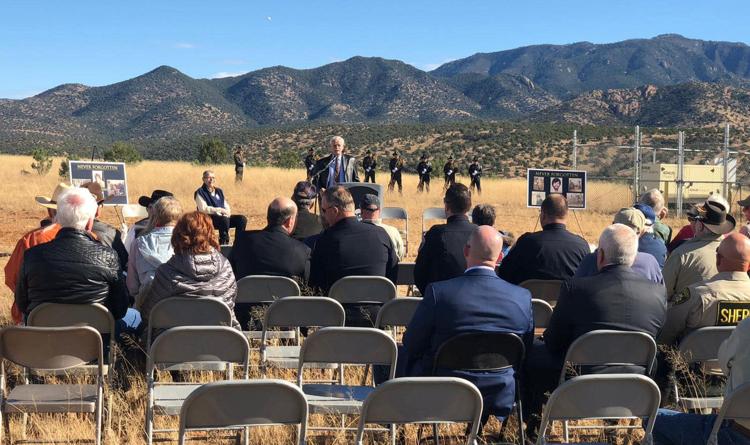 The retired group of officers then partnered with the Border Patrol's Tucson Sector to plan a formal dedication ceremony for the permanent memorial, which was held Tuesday, Dec. 3. It included full honors and a 21-gun salute.
"I still get letters and communication from fellow officers who come out to this location to remember Bo and Bud," Paladino said.
Roy D. Villareal, chief patrol agent in charge of the Tucson Sector, called it "heartening" to see the impact Dixon and Bokinskie had on their fellow officers.
"For them to work 45 years to make this memorial reality speaks to the camaraderie and care CBP officials have for one another," Villarreal said.
According to an Associated Press report at the time, Dixon and Bokinskie were on a routine patrol in a known drug-smuggling area when they spotted and attempted to block a man later identified as 43-year-old Michael A. Williams as he approached them in a pickup truck.
"Williams apparently opened fire with a pistol, turned his truck around and headed back towards Mexico," the report said. "(Customs Service spokesman Jerome Hollander) said Williams is believed to have slain Bokinskie, took the officer's shotgun and used it to kill Dixon. During the chase, the agents shot Williams four times in the back, but customs officials said he somehow was able to get out of his truck and continue the gunfight."
Two teenage girls on their way to meet a school bus later found all three men's bodies sprawled next to two trucks, the AP reported. Williams' truck contained 120 pounds of marijuana.
Each May, Dixon and Bokinskie's names are read during the Santa Cruz County Peace Officers Memorial ceremony, which pays honor to the now 18 officers who have died or been killed in the line of duty in Santa Cruz County.