When the COVID-19 virus initially began to spread in Arizona, and businesses and services across the state temporarily shut down, the Patagonia Youth Enrichment Center also closed its doors. But the PYEC didn't stop serving the community; instead, they expanded their services beyond their target audience.
From March to May, director Anna Coleman and her daughters Caitlyn and Annika took to the center's commercial kitchen to cook hundreds of meals each week for any individual or family in town who wanted to stop by for a plate.
"We started to, for the first couple of weeks, offer take-home meals for the kids to come and pick up," Coleman said, explaining that most of the kids who regularly visited the center were already used to having dinner there every weekday.
"Then, we realized… we couldn't very well give food to the kids and not their families. So it was basically for anyone. They didn't have to fit a criteria."
Each family was able to take home about three to four meals per week, Coleman said, and she and her daughters gave away an average of 400 take-home meals every week for eight weeks.
In addition, the center also received help from three community members who baked cookies in their own kitchens to hand out along with the meals.
Other community members and businesses in town stepped up to contribute by donating food and resources to make the take-home meals possible.
By the end of May, Coleman said, they had given out approximately 4,120 meals to community members.
"Basically, one of the things that we were focusing on is we were fortunate enough to be healthy and we wanted to continue to offer nutritious food to whoever needed it," she said.
In order to keep the PYEC operating with the meal program and fun activities for the kids, Coleman said, she also spent her free time applying for grants.
The center ended up receiving economic assistance from entities including the Governor's Office, the Arizona and Southern Arizona community foundations, and United Way.
After hearing of the PYEC's community efforts, the Boulder Crest nonprofit in Sonoita hosted a food drive in Sierra Vista to gather canned food donations for the center.
"The community really stepped up and helped each other," Coleman said. "It was really nice to be able, to be healthy, to have the resources to be able to lend support and assistance to families and individuals that needed it."
As businesses began to reopen and the school year came to an end, the PYEC stopped the community meals and shifted their attention back to creating fun opportunities for local kids to safely participate in during the summer break.
The Patagonia Regional Community Foundation had granted the center some funds to help cover a youth camp that Coleman's daughter Caitlyn, also the center's project coordinator, had initially planned for the kids' summer vacations.
However, with the COVID-19 crisis continuing to pose health risks for the community, Caitlyn was able to use those same funds to buy Lego engineering kits, acrylic paints, kinetic sand and 3-D wood puzzles for several students who have regularly visited the center.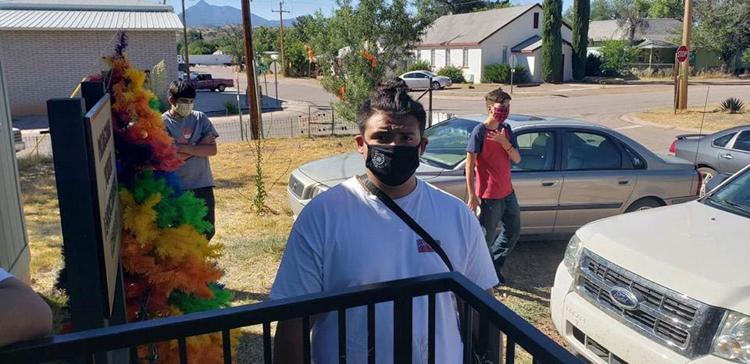 The kids were allowed to keep the end products, but were asked to submit photos of their projects upon completion to have a bit of accountability for their summer activities, Coleman said.
"But the kids, they were so bored, they got them done really fast," she said with a laugh, adding that such projects would normally take a group of students a couple of days to finish at the center.
Moving forward, she said, she and her daughters were preparing cooking and baking kits to hand out to some of the older students who were regularly involved in preparing food at the center's commercial kitchen.
"We're going to get them the ingredients to cook meals for their families rather than us cooking meals. That way, they can show off their skills," Coleman said.
Another project in the works for the coming weeks is having some of the kids paint a mural outside of the center, while still practicing social distancing measures.
But as the coronavirus outbreak drags on, Coleman said, she continues to seek more grants, frugally manage their budget and get creative with social distancing activities.
"Honestly, it's tough to know where we're going to be in six months," she said. "It's not going to be that we'll have to close down, but if things continue like this and we aren't able to do our fundraiser, we'll have to come up with creative ways to hopefully find the resources to push us into the next year."